There's a way for everyone to participate!
Cowboys and cowgirls at heart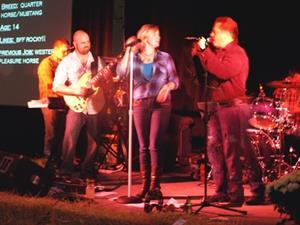 At the Hoe-Down, there's something for everyone, and that includes the sense of pride that comes from knowing your contribution will help the special needs kiddos at TherAplay.
Get your tickets here!
There are several ways to purchase your 2013 Hoe-Down tickets.
In advance
At the event
Mosey on up to the registration area at the Hoe-Down and purchase your tickets.
Remember: Tickets cost $100 each when purchased in advance. Tickets purchased on or after September 19, are $125 each.
Sponsors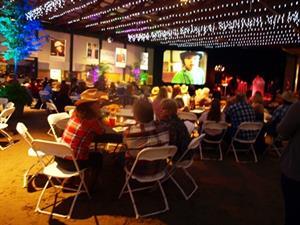 Looking for an effective way to promote your business or organization, spend a beautiful fall evening in high style, and support TherAplay? Look no further! Sponsorship opportunities for the event, depending upon the package you choose, may include the following:
Complimentary tickets to the Hoe-Down

An ad in the Hoe-Down program book

A link to your company's website from the TherAplay website
Volunteers
Want to purchase your ticket with your time and expertise? Serve as a Hoe-Down volunteer or committee member.
Hoe-Down and Wild West Casino committee members meet quarterly to discuss ways to make the most of our biggest fundraiser of the year. Committee members chair or co-chair a specific area of the event: marketing, decorations, casino, volunteers, silent auction, etc. Each Hoe-Down committee member receives four tickets to the event and is not required to volunteer the night of the event.
Hoe-Down and Wild West Casino "night of" volunteers donate three hours at the Hoe-Down. The rest of the time they are welcome to enjoy the festivities. This involves tasks such as serving beer and wine with a temporary volunteer permit, directing traffic, registration, and general clean-up.
Everyone!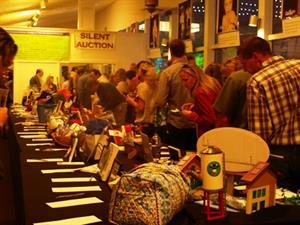 One of the things that makes the Hoe-Down memorable is the great variety of items for our silent auction.
Do you know of a tax preparer or a hairdresser? Is there a store you patronize? All of these are great people and places to ask about donating products, services, and gift certificates.
Not only do these individuals and businesses benefit from the attention of more than 400 very eager pairs of eyes at the event, their donations are tax deductible.
Silent auction donation forms are available in the office or here.
Please remember: Some businesses allot only a certain amount of donations per year and are often tapped out quickly; so, the earlier we start collecting items, the better!
Your stagecoach awaits!
Guest parking for the 2013 Hoe-Down is at College Park Church, located at the south-west corner of 96th Street and Towne Road.
Indianapolis Yellow Cab is once again very generously donating their services and will shuttle guests to the event beginning at 6:00 p.m. and back to their cars afterwards until 11:15 p.m.
Let us tell you, the folks at Yellow Cab really know how to put the spit shine on their stagecoaches. You will feel like a Western star!
To-your-front-door-and-back stagecoach service
We want everyone to have a great time and get home safely. Thankfully, Yellow Cab is available to pick you up right at your own front door and get you home again after the Hoe-Down.
Fees are $3 for the first passenger, plus a one-time fee of .65 per additional passenger, and then $2 per mile.
How do I schedule my very own stagecoach?
Place your reservation by calling Yellow Cab at (317) 487-7777.

Provide the cab service with the following information:

Pick-up address

Time of pick-up

Number of passengers

And be sure to let Yello Cab know you are attending the TherAplay event!
* For entertainment purposes only.