There will be lots of laughs, fun, and new friendships made on Tuesday, May 8 when more than a dozen Indy 500 drivers team up with the kiddos to get their adaptive tricycles across the finish line of our speedway.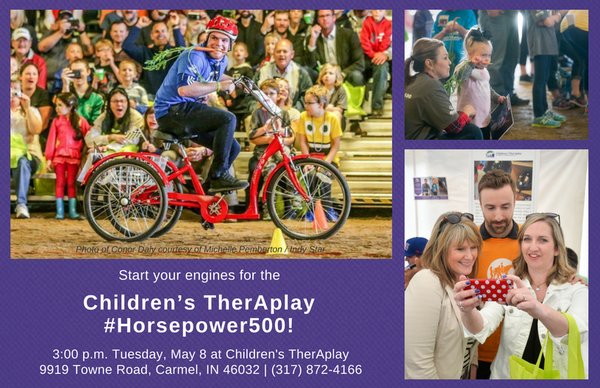 Eight Indy 500 drivers have already confirmed for the #Horsepower500 so far. (The rest are waiting for word on their schedules.) See who's already scheduled to come out and play this May.

One of those drivers (our defending #Horsepower500 champion!) went out of his way to make the kiddos' day by handing out valentines and then working alongside his new friends on Valentine's Day. In fact, something pretty special happened between Jay and kiddo Kannon.

The advance purchase price gets you 50% off tickets + a free event t-shirt. But it's only good through April 18 (or until tickets run out – see #6 below!)

Guest parking is just down the street at College Park Church. A ride on the complimentary (wheelchair-accessible) Miller Transportation shuttle or a short walk on the newly-paved Carmel walking trail will get you from your vehicle to the #Horsepower500 in record time.

Every child who is currently receiving physical or occupational therapy at Children's TherAplay has the opportunity to play a special role in the #Horsepower500 (or one of our other fun events!). Stay tuned to the blog and our Facebook and Instagram pages in the coming weeks to meet the 2018 #Horsepower500 kiddo – INDYCAR driver – therapy horse teams!

Tickets to the #Horsepower500 sell out every year – in fact, 20% of the tickets are already gone – and, especially with all the media attention it garnered last year, it will again. If you want to attend the #Horsepower500 this May, be sure to get your tickets while you still can!
You might also enjoy