Looking for a little something to get your week off to a good start?
Over the past few months, folks have been surprising us with birthday gifts. No, not gifts for our birthday – theirs! Really! Through Facebook fundraisers and piggy banks alike, they've turned their birthdays into a way to help the kiddos here at Children's TherAplay … to the tune of more than $5,500.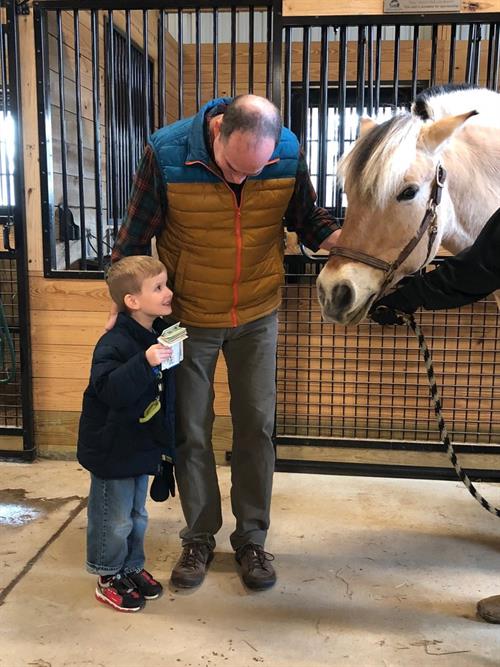 Did your mouth fall open? Ours did too! Because each of these fundraisers was a total surprise to us.
So first off, thank you to Marlo McGregor, Anders Krohn, Jason Imel, and our young friend Charlie (pictured) for sharing your birthdays.
And to everyone who donated through these birthdays, as much as we would love to send a thank-you note to each one of you, we don't have your contact information. So please accept this heartfelt THANK YOU.
About that sweet photo
If you've ever thought that small people can only do small things, think again. Through his birthday, Charlie donated more than enough to fund a child's treatment. He was so proud to present it, with a little help from dad, to therapy horse Thor. And we were so honored to receive it.)
You might also enjoy
---
Related Topics: Children with Disabilities Indianapolis, Children's TherAplay, Equine Therapy, Horse blog, Horse Therapy Indianapolis, Occupational Therapy Indianapolis, Pediatric clinic Indianapolis, Pediatric Occupational Therapy Indianapolis, Pediatric Physical Therapy Indianapolis, Pediatric Rehabilitation Indianapolis, Physical Therapy Indianapolis, Special needs children Indianapolis, Speech Therapy Indianapolis, Successes special needs children, The Children's TherAplay Foundation, Inc., TherAplay, TherAplay Indianapolis, TherAplay kiddos can, Therapy horse Indianapolis, kiddos helping kiddos, giving back, donation, birthday, Facebook fundraiser, donate birthday, children, special needs, children with special needs, equine-assisted physical therapy, equine-assisted occupational therapy, equine-assisted therapy, PT, OT, Hippotherapy, Indiana, Carmel, Indianapolis, nonprofit, families with special needs