We asked our intern Logan to give people a behind-the-scenes view of life at Children's TherAplay. Because we are currently accepting applications for internships, Logan addressed his blog to his successors.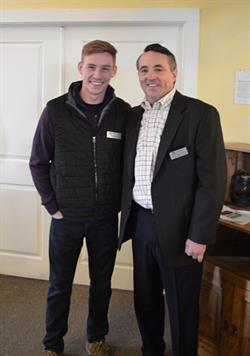 Logan receives a well-deserved thank-you from Children's TherAplay founder and board member Craig Dobbs
An organization of love
Dear Future Children's TherAplay Intern,
As I write this I am halfway through my internship, and I have to tell you, the saying "time flies when you're having fun" has proven itself more true for me here than anywhere else. In the past I have volunteered at summer camps and youth programs, have lead great organizations, and have worked alongside amazing people; however, my time at The Children's TherAplay Foundation has proven unmatched.
At Children's TherAplay, I am getting a hands-on experience that has immersed me in an organization of love, inspiration, and most of all change. Now, I am not saying that this amazing experience is without dedication or hard work – there are days where my list of things to complete is longer than my arm. But no matter how big or small my tasks, I am excited to see them through because I know that they actually make a difference for the staff or the families that come to Children's TherAplay. The work I do is making change.
The kiddos come first here
For example, we recently just held our first fundraiser of the year, the Show & Tail Breakfast, where I worked on nearly anything you can imagine: organizing and collaborating during the planning stages, cleaning and setting up the day of, and working with the families during the event.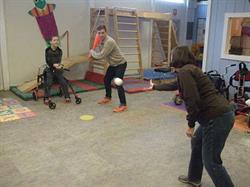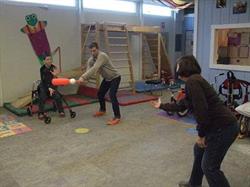 As seen on the Children's TherAplay Facebook page
Developing the coordination, balance, and strength to walk well may take work but that doesn't mean it can't
be fun. Here physical therapist
Denise and intern Logan help kiddo Mason do just that.
Assuming the catcher's pose strengthens Mason's quads, glutes, and lateral hips, all of which help stabilize him during ambulation. It also helps build endurance, improve mobility, and address balance.
You need to know that the kiddos come first here, and I love being able to spend time in the clinic with them or sidewalking while they are receiving their physical or occupational therapy on horseback. I get to be a part of their progress and success.
Be assured that sometimes you, like me, will have to put in early mornings or late nights, or a little more time doing laundry after sidewalking with the kiddos and horses, and not to mention spending plenty of quality time with the computer and phone.
It is truly worth it
But let me tell you two things: One, it is truly worth it, and two, the staff will never ask you to do anything that they wouldn't do themselves. The staff at Children's TherAplay is made up of some of the most dedicated, hardworking and knowledgeable people I have ever had the pleasure of working with. In addition, they are the most encouraging and supporting staff – one I actually feel a part of. They always help, answer questions, and inspire me. I can so easily see their passion and care through their work with the kiddos.
Something I realized in the first few weeks working here was that major hospitals can save these kiddos' lives but this place changes these kiddos for life, and that is what I truly want to be a part of. It's true that this internship is unpaid, that I am commuting from Ball State University every day I work, and that I have had offers for internships that were closer to me and paid.
Bringing a little more happiness
However, if I went back to do it all over again, I would stick with my choice of Children's TherAplay every time. I am getting the best experience I have ever had, working with amazing people, and changing lives – even bringing a little more happiness – for children with special needs.
If you have the heart for it, you can do it too.
Your predecessor,
Logan Bagby

Children's TherAplay is currently accepting applications for internships, Download the job description here or from our Careers page.
You might also enjoy