One of the joys of being part of TherAplay lies in watching our kiddos grow, change, and progress. Sometimes the kiddos we serve make small gains, sometimes they make larger ones, and oftentimes those gains combine to make a huge leap forward. Regardless of how or when these gains come, we celebrate them all.Check out some of the big steps forward – and we mean that quite literally! – our kiddos have made recently.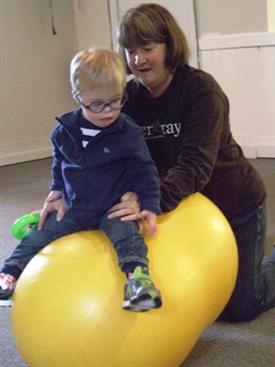 Leo moves forward!
When Leo came to TherAplay nine months ago his primary mode of locomotion consisted of scooting on his bottom. And while he was able to get around quite effectively, his family was concerned that that would be the extent of his mobility. His mother tells us, "We had given up on crawling."
But all that changed when he began working with pediatric physical therapist Sam. Within a few months Leo had progressed to the good old fashioned belly crawl and, recently, topped that by crawling on his hands and knees.
Leo's parents are delighted with his progress and so are we. Check out Leo's moves in this video and cheer along with us.
(Photo: Leo works with TherAplay pediatric physical therapist Denise Lunsford.)
Zac takes off!
Many of you cheered along with us back in August when we shared this exciting news on Facebook:
Click that Like button for Zac! The greatest number of steps he's taken independently in physical therapy was 6 ... until recently when he blew us away with 17 INDEPENDENT STEPS! Go kiddo go!
Well it gets even better!
Although Zac had been taking more and more independent steps during his physical therapy sessions here at TherAplay, so far, he had not been motivated to walk at home. In his mind, it seemed so much faster for him to crawl.
All that changed recently. Zac's mom tells us she was in the kitchen when she heard someone laughing. She turned to see Zac walking towards her all by himself. It was a day to mark on the calendar!
Zac then outdid himself. His kindergarten teacher reported that he took 100 independent steps – yes you read that correctly! – last week. What a huge leap forward in independence.
Jen Grillo, pediatric physical therapy assistant (pictured above with Zac), beams when she says, "I am very proud of him!" We are too!
You might also enjoy