"Exceeds Standards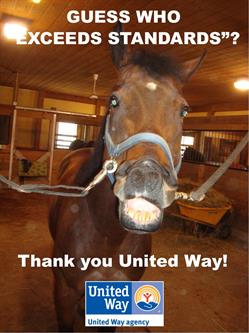 " -- why did those two words have us jumping for joy recently? They came from United Way of Central Indiana, along with congratulations on receiving the highest rating possible in our agency evaluation review.
Haven't been through a major United Way agency evaluation? Here's how UWCI describes it:
"The Agency Evaluation Review fulfills one of the most important promises UWCI makes to the community and its donors by reviewing its agencies and standing behind the credibility of each agency's evaluation. …Agency evaluation is a comprehensive, in-depth examination of the infrastructure of the organization. The purpose of this process is to ensure accountability to the community and donors that their funds will be used wisely for the provision of needed services and to assist agency in improving the governance and management process."
Please note that United Way uses the words comprehensive and in-depth with good reason. The 600 or so pages of documentation, followed by a two-hour in-person presentation with approximately a dozen members of the community, could be compared to writing and then defending a doctoral dissertation.
It's intense to say the least. But this grueling process is part of UWCI's due diligence and commitment in ensuring that "UWCI certified agencies are well managed, fiscally responsible, and provide vital human services for those who need help most."
It's also one reason among many that Children's TherAplay is so proud to be a UWCI certified agency. It means something.