The results are in for our Second Annual Fall Festival Horsestravaganza costume contest. It was an exciting competition this year with more than 130 points awarded and a surprise ending.
That's right! It looked like Monsters, Inc. was going to bring home the prize this year but I decided that I should consult my handy-dandy Facebook analytics page. (There were carrots and cupcakes at stake, after all.) That's when I discovered that the team with the most points was Cowgirl Up!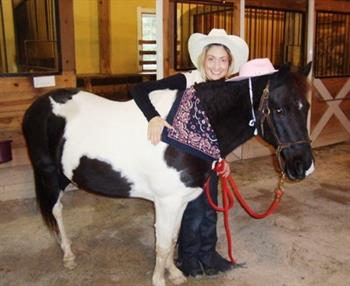 Although all three teams did a great job, your votes put physical therapist assistant Jen Grillo and trial therapy horse Sparky over the top for the win and the Vanilla Bean Bakery cupcakes and carrots.
Congratulations Jen and Sparky! You did it!
Enjoy the cupcakes Jen and have fun delivering those carrots. I'm sure there will be a lot of horses who are willing to help Sparky out with them if she decides to share.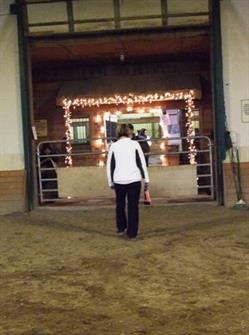 Thank you again to all my therapist and therapy horse friends who competed. (Just so you know, I voted for all of you!) And thank you to everyone – especially Vanilla Bean Bakery, who generously donated the delicious cupcakes! – who joined us for this year's Horsestravaganza. With all the creativity on display this year it makes me wonder what my friends will come up with next year!