Ella is ready for the equine-assisted portion
of her physical therapy session
We are privileged to be a part of so many special moments at TherAplay and we celebrate all of them. Many times they are related to a child's specific goal: getting dressed independently or learning to crawl.
And just as often these moments speak to something that is part of our mission but not as readily noted in a medical chart, like children feeling safe to try new things that don't necessarily come easily.
We're savoring one of those moments – the latter kind – that took place in our clinic recently.
"There you go Juju"
In preparing for on-the-horse treatment time, one of our kiddos Julian had walked up to the shelf where the riding helmets are stored.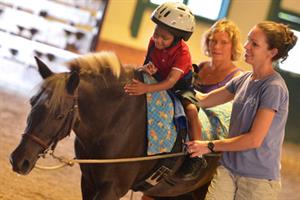 Julian pats Zippy during the on-the-horse portion
of his occupational therapy session
Ella, who is older than Julian, is very shy and oftentimes she prefers not to speak or make eye contact. But she didn't let that stop her from helping a friend. "Oh, here you go Ju," she said as she pulled down the helmet he asks to wear each week.
Julian reached for the helmet and, together, they placed it on his head. "There you go JuJu," smiled Ella. "Thank you!" was Julian's delighted reply.
And off they went to the riding arena, all smiles.
Pediatric occupational therapist Abigail's heart melted as she observed the sweet exchange, "This moment of interaction was priceless as one child reached out to help a younger friend, knowing and keeping in mind his exact routine and preferences."
Yes, it's a small moment. But it's moments like this that, even in the depths of winter, warm us from the inside out.
You might also enjoy