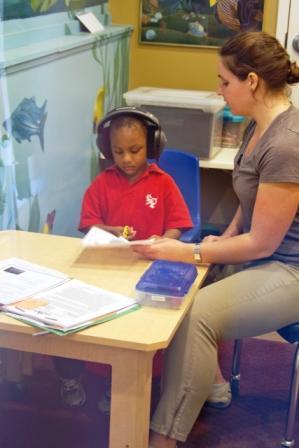 Occupational therapist Abigail works with one of TherAplay's special needs kiddos. The headphones our kiddo is wearing are part of the therapeutic listening program.
TherAplay's therapeutic listening program has been a huge success with some of our sensory kiddos.
Have you heard about the therapeutic listening program at TherAplay?
Therapeutic listening is an evidence-based auditory intervention that uses music that is electronically altered to tap into parts of the brain involved in regulating bodily functions, relating to others, and organizing behavior.
TherAplay integrates therapeutic listening into pediatric occupational therapy sessions to support our kiddos who experience difficulties with sensory processing, attention, communication, and much more.
Here's just one example of how it helps our kiddos
Just this past month one of our kiddos, who was strongly aversive to headphones or any other object placed on or near his head, wore the therapeutic listening headphones for 30 minutes during his last therapy session. That's a huge leap forward. Congratulations kiddo!
TherAplay's lending library continues the program at home
TherAplay's therapeutic listening program includes equipment (MP3 players, specialized headphones, and a variety of music chips), therapist training, and a lending library so TherAplay families can continue the therapist-directed program at home.
In fact, the lending library is an essential part of the therapeutic listening program. To receive the full benefit of the program, it's important for kiddos have two therapeutic listening sessions - 30 minutes each - each day.
Learn more about therapeutic listening and the gains our kiddos have made with assistance from this protocol.
Two generous grants made therapeutic listening program possible for TherAplay kiddos
We deeply appreciate the generosity and support of those who made this valuable resources possible: Legacy Fund of Hamilton County, an affiliate of the Central Indiana Community Foundation, and Cornerstone Autism Foundation. Thank you for making a difference for the special needs kiddos at TherAplay.
You might also enjoy