We at TherAplay are blessed to be able to contribute to and witness so many big firsts in our kiddos' lives. We've been a part of first steps, first words, and first jumps, just to name a few. And not too long ago we were able to share another big first, this time with Olivia.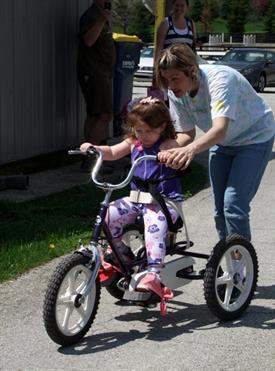 During her initial evaluation at TherAplay Olivia's parents expressed hope that, among other goals, someday Olivia might be able to participate in and enjoy age-appropriate activities. In particular they mentioned riding a tricycle on family outings. But Olivia had a long way to go before she could sit upright unassisted on a tricycle for more than a very short time, let alone pedal it herself.
During 14 months of pediatric physical and occupational therapies at TherAplay, Olivia has made incredible gains and one of them is captured in the video below.
We invite you to celebrate with Olivia and her family – if you turn the volume all the way up you may be able to hear them shouting encouragement and applauding – as she rides a tricycle all by herself for the very first time.
Way to go Olivia!
Now you can learn more about Olivia and the tremendous gains she's made here made here at TherAplay. Check out her profile here.
You might also enjoy…

Guess who's making tracks in the Tony Stewart Foundation newsletter!

We'd like to say thank you

From our equine ambassador Rocky: Guess who just had a BIG birthday!