Each day we see the difference the tool of hippotherapy can make for children with special needs. That's why, when the fieldwork instructor of one of our therapists asked for an interview as a special favor, we said yes.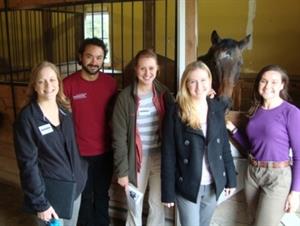 Last Friday, four first-year occupational therapist (OT) graduate students from the University of Indianapolis eagerly ventured out to TherAplay to interview pediatric OT Abigail about the tool of hippotherapy and her experiences as a practitioner.
The students were full of questions like:
What is a typical day like at TherAplay?
How is TherAplay set up as a non-profit?
What are the challenges and joys of your job?
As you can see from the photo, equine ambassador and therapy horse Rocky wanted to participate in the interview too!
Thanks to their meeting with Abigail, they walked away with a detailed picture of the unique work we do here at TherAplay, the children and families we serve, and some basic treatment principles we use.
There's more though. When asked how this interview paid it forward Abigail shared this:
"In the profession of OT, we constantly rely on practicing therapists to help mentor, shape, and develop students and expose them to the real world application. This is a good bridge to build within our profession and to invigorate students about the awesome field they are entering!"
Thank you Abigail and Rocky for sharing your time. And students, welcome to the wonderful world of OT. We're so glad you're here!
You might also enjoy