You've seen the photos of the TherAplay kiddos squealing with delight, the videos where they're giggling through their physical and occupational therapy sessions.
But have you ever wondered what TherAplay might be like from a parent's perspective? This week we're excited to share exactly that.
Meet the blogger behind SayHolaLola.com
For the past few years, Meredith has been blogging about her three-year-old daughter Lola's journey with West Syndrome, sharing the joys, frustrations, and experience they've gained along the way.
One of their recent blog posts featured some of the specialized treatments they've tried and whether or not these treatments seem to have helped Lola. With Meredith's kind permission, we've reprinted the portion of the post that details her parent's-eye experience at TherAplay.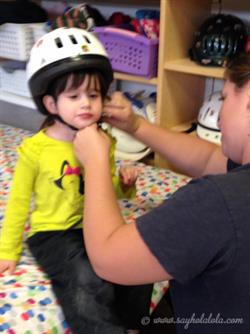 Ever since Lola began having seizures two years ago, she has been enrolled in some type of therapy (yes…even in Costa Rica). Rob and I made a vow that Lola's well-being would come above anything else…especially in these first three years because that's when the child's brain is the most plastic.
And I'm proud to say (even though I'm about therapied out) that we have kept our promise to her. We sacrificed an additional income so someone could always be home to accommodate her therapists. We have spent ungodly amounts of money, gas and time taking her all over the city. Yet seeing how far Lola has come makes it all worth it.
Over the past couple of years, we have tried out many different specialized therapies. You may wonder why we are trying specialized therapies when Lola already receives traditional therapies. The traditional therapies have worked fine, the therapists are great and she is thriving, but we are "think outside the box" kind of people. We like to challenge Lola's brain in ways that aren't typical.
... And rather than looking back 20 years from now saying, "I wish we would have done this or we could have done that", I'll be able to rest my worried mind knowing that we did everything we could to get Lola on a path of recovery and health.
Join Meredith as she shares her unique perspective as the parent of a child with special needs.
And be sure to celebrate with her – and all of us! – as Meredith recounts the changes she's seen in Lola since they began coming to TherAplay for physical therapy.