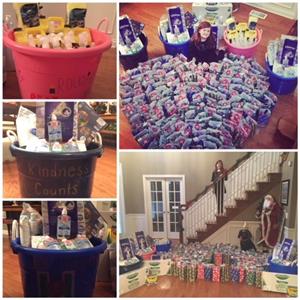 If you saw our blog earlier in the week you know that, instead of making a list of things she wanted from Santa, a young girl named Hannah asked what was on our list because she wanted to help us help children with special needs. When we told her about the holiday gifts we give the kiddos each year and the everyday items on our wish list, Hannah got right to work.
And what this young miss created is...
Extraordinary
$1,336 of items we otherwise would've had to purchase. Items like fly spray for the therapy horses, markers and construction paper for the clinic, Dixie cups for thirsty families in the waiting room, holiday bags for every single child who comes for physical or occupational therapy, and even Kleenex, which we especially need right now for the happy tears resulting from Hannah's kindness.
175 Holiday Bags

175 snowflake bubbles

525 winter pencils

175 Stress balls

175 kazoos

175 slap bracelets

175 head boppers

4 large buckets

3- 1 gallon horse fly spray

12 sponges

12 horse spray bottles

3- 600 count Dixie cups

3- 648 count baby wipes

4-6 pack Kleenex

3- 4 pack Kleenex

36 hand sanitizers

3- 256 count marker sets

2- 48 count marker sets

3-500 count colored construction paper

4-50 count colored construction paper

4 large buckets
Do what you can
One of our staff members includes this quote, by Sydney Smith, in the signature line of her emails: It is the greatest of all mistakes to do nothing because you can only do little — do what you can.
Just look at what one person, and one very helpful heart, can do.
Thank you Hannah. Happy holidays indeed!
All photos in this blog post courtesy of Hannah's family.
You might also enjoy