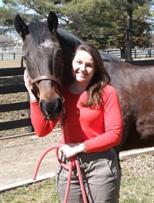 Abigail Avery, MOT, OTR
Abigail joined the TherAplay team in January of 2013. She is a graduate of Ithaca College (Ithaca, NY) with a Bachelor of Science degree in Occupational Science and a master's degree in Occupational Therapy.
Her fieldwork took her to the Positive Education Program's Prentiss Autism Center in Cleveland, OH; the Florida Institute of Neurological Rehabilitation in Wachula, FL; and IU Health Goshen Hospital/Center for Cancer Care in Goshen, IN.
Abigail is has completed American Hippotherapy Association (AHA) Level I Equine Skills and Treatment Principles and is a member of the AHA.
Abigail interned and served as assistant barn director and cabin head at Bradford Woods summer camp for children with special needs, making the full summer camp experience accessible to children with special needs. She has also volunteered at the Ithaca Free Clinic and worked with the Center for Life Skills, a post-stroke program. She will complete her American Hippotherapy Association Level 1 Certification in Spring 2013.
Becca Lassell, MOT, OTR/L
Becca graduated from Marian University with dual Bachelor of Art degrees in Sports Performance and Communications in 2010. As an undergraduate, she shadowed at TherAplay, where she fell in love with occupational therapy and hippotherapy. A horse enthusiast and former horse owner, Becca loved TherAplay's welcoming atmosphere and unique treatment approach. She was inspired to become an occupational therapist and pursued her master's degree at Shawnee State University in occupational therapy.
She completed clinical rotations in adult inpatient/acute care at Mercy Anderson Hospital located in Cincinnati, Ohio and outpatient pediatrics at ABC Pediatric Therapy in West Chester, Ohio. Becca went on to work at ABC Pediatric Therapy after her clinical fieldwork until she relocated to Indianapolis for her husband's job. She was thrilled to join TherAplay's team in summer of 2014.
Becca is currently completing her fellowship in pediatrics through Riley Child Development Center's LEND program. She plans to complete her American Hippotherapy Association Level I Certification in the near future.
Jaime Owings, OTR
Jaime graduated in 1990 from The Ohio State University with a Bachelor of Science degree in Allied Medical Professions / Occupational Therapy. She completed her graduate training in pediatric occupational therapy as a research fellow at OSU from 1991 to 1993 and went on to work for Easter Seals of Central Ohio and Allied Health Professions private practice, both in Columbus, OH. She became SIPT certified in 1996.
After Jaime moved to Indianapolis in 1997, she worked as a pediatric occupational therapist at Riverview Hospital with early intervention and Tri-County Education Co-op in out-patient rehabilitation.
In 1998, Jaime became an independent provider for First Steps of Indiana and, from 2000 to 2004, was employed in an independent contract position with TherAplay. We were delighted to have Jaime return to TherAplay as a PRN (as needed) contractor in 2011. She has completed American Hippotherapy Association (AHA) Level I Equine Skills and Treatment Principles.
Jaime resides in Fishers with her husband, three daughters, dog, and two cats.