A Year-End Letter From The Executive Director
As parents, the moment we hold our child for the first time we have a myriad of thoughts and emotions. "How can you possibly be this small?" "I never thought I could love anything this much." And, if we are being honest, the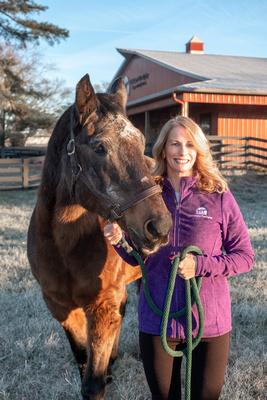 thought may escape: "will you ever grow into this nose?" However, the singular wish we all have when we hold our child for the first time, the one thing that matters above all else is simple: "I want nothing more than for you to be happy."
I think about this often when I am spending my days watching our mission play out at Children's TherAplay. Connecting the indelible spirit and determination of your kiddos with our magnificent horses and team of exceptional therapists is a recipe for happiness in so many lives, and it plays on the faces of your children so beautifully. Thank you for letting us be witness to their joy.
As I reflect on 2019, the one word that pops quickly into my mind is unpredictable. We lost four of our beloved horses, three within the span of four weeks, which left us feeling sad yet fortunate that we were able to see them touch so many lives on a daily basis. We began the year with visions of a newly redesigned clinic and office space that would transform our ability to change children's lives. While we have raised the necessary funds, and worked tirelessly on our construction plan, unpredictable delays have us ending the year with no progress made on our new building. This has been incredibly frustrating for us all, and I thank you for your patience as we work to get our project underway.
Perhaps the most unpredictable, yet most pleasant surprise came at the end of the summer when an anonymous donor made a significant surprise gift in support of our mission. This gift has had a transformational impact on our poor nonprofit and allowed us to make investments in our mission, which up until now, we could only dream of. We were able to contribute important funds for our construction project, we made a seed gift to a new endowment, which will help pave the way for sustainability of our mission in the future, and finally, we made our most sizable investment to date in our talent to offer more competitive compensation with the goal of reducing turnover and improving continuity of care for your children.
We look ahead to 2020 with much excitement and look forward to spending continued time with your family and making new friends along the way. We should open the doors to our new facility by the end of 2020. We expect to add new programs and expand our current offering to serve families even better. You will be receiving a family survey in the first quarter of 2020 where you can provide feedback on our direction and share areas we can serve your family better.
We thank you for trusting us with the care of the most precious part of your life and for letting our mission be a conduit to their happiness. Have a joyous holiday season, and we look forward to seeing you back and better than ever in January of 2020!
Kathy Pelletier Executive Director