A Letter From The Executive Director
Happy Holidays, Children's TherAplay friends and supporters! As 2019 winds down, I thought I would share with you all something which has played over in my head during my first year here at Children's TherAplay. A question and an answer so relevant to the reason we exist as a mission that I am reminded of it daily.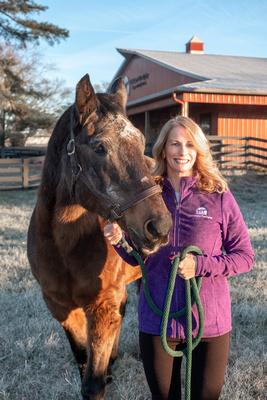 What is one thing that every parent feels when they hold their child for the first time? Perhaps there are a myriad of emotions and thoughts, but for almost all, a singular thought emerges: I want you to be happy.
Spending my days observing our mission play out, I see parents and grandparents watching their children participate in therapy that brings so much happiness. Children who have spent much of their life in clinics and medical facilities have the opportunity to connect with our magnificent horses and receive valuable physical and occupational therapy which is changing their lives. And, on top of the momentous gains they achieve, there is well deserved happiness. So much happiness.
As the year comes to a close, I humbly ask that you consider making a gift to Children's TherAplay in support of this happiness. To be frank, we cannot continue serving the community as we have for 19 years without your support. Your gift brings happiness and makes a long-term impact on our mission.
I can assure you that no matter the size of your gift to Children's TherAplay, your dollar goes to work the next day. Our small non-profit truly trusts in our supporters to help us in both the big things (like a transformational construction project), and the small things (like providing hay for our 12 therapy horses).
We thank you for allowing your support of our mission to be a conduit for the happiness of so many children and families. Have a joyous holiday season, and we look forward to many moments of happiness to come in 2020!
Kathy Pelletier
Executive Director