Looking for a fun way to help make a difference? We've got some ideas!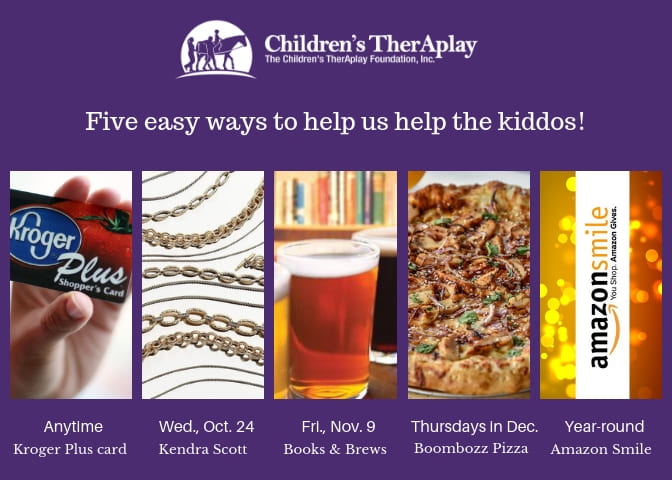 1. Anytime: Swipe your Kroger Plus card
Stocking up on Halloween candy? Planning ahead for your Thanksgiving feast? If you buy groceries, you can help!
Simply register for the Kroger Rewards program, and a percentage of every dollar you spend at Kroger will be donated to Children's TherAplay whenever you swipe your Kroger Plus Card. (And, no, this does not affect your fuel points!)
Register here, then start swiping!
2. October: Bring on the bling
Need to buy a gift for the jewelry-lover in your life? Wednesday, Oct. 24, from 5-8 p.m., we'll be at Kendra Scott in the Keystone Fashion Mall for their annual trick-or-treat girls' night out. Enjoy wine, cheese, jewels, and special promotions. Children's TherAplay will receive 20% of all sales during this time. Use the Crate & Barrel / Cheesecake Factory entrance for easiest access.
3. November: Raise a glass to therapy horse Gideon
On Friday, November 9, for one day only, Books & Brews Carmel will rename their IPA Gideon's Giddy-Up in honor of our longest-serving therapy horse! (Congrats, Gids!)
Children's TherAplay will receive $1 from every pint of that beer sold that day. Children are definitely allowed in the establishment, so feel free to bring yours along!
4. December: Pizza time
Ordering pizza? Check out Boombozz Carmel and Fishers.
Every Thursday in December, they'll donate 15% of your purchase to Children's TherAplay. This includes both dine-in and carry-out but you must present the printed flyer. Find it here or pick up a copy in the Children's TherAplay waiting room.
5. Year-round: Amazon is amazing
Whether you're stocking up on everyday essentials or holiday gifts, when you shop Amazon.com, a percentage of your purchase price will automatically be donated to Children's TherAplay.
Just be sure you start your Amazon shopping trip here so your purchases will count.
Want to see how your donations help kiddos who have special needs thrive?
Your support matters. Thank you for helping make equine-assisted therapies and these successes possible at Children's TherAplay.