So, we sent out a few emails and posted a blog inviting the community to help cheer on the kiddos in their physical and occupational therapies … and something marvelously unexpected happened.
A huge river of love welled up in New York, Ohio, Arizona, and all across Central Indiana … and flowed straight to our door. For two weeks now, our mailbox has been overflowing – in the most wonderful way – with handmade valentines.
How many valentines?
An estimated 5,000 from about 450 different individuals, schools, businesses, clubs, teams, organizations, and families near and far.
That's a lot of love for these kiddos and their families.
And it came from YOU.
Thank you. Thank you for opening your heart and cheering on the kiddos and their families. We've had such fun giving away your valentines over the past two weeks. And the kiddos have had even more fun receiving them.
Videos from Fox 59, WTHR, and RTV6
If you haven't seen them yet, you'll enjoy the videos from Fox 59, WTHR, RTV 6, plus an interview with Ollie's mom from HANK FM's Mornings with Dave O'Brien.
You can find all of them below.
But first…
We'd like to thank every single person – Every. Single. Person. – who took time out of their busy day to look us up online, download the valentine template (or make their own!), pour love and creativity into these handmade valentines, and then mail them or make a special delivery.
Together you've helped lift up some very special kiddos and create some very special memories. And for that, now and always, you have our thanks.
(We're also sending a special hooved high-five to the United Way of Central Indiana – we're so honored to be a partner agency! – for knowing exactly how to #ShareTheLove with all the extra valentines.)
Ready for some fantastic videos and interviews?
Meet kiddo Joslyn and hear from her mother about what these valentines mean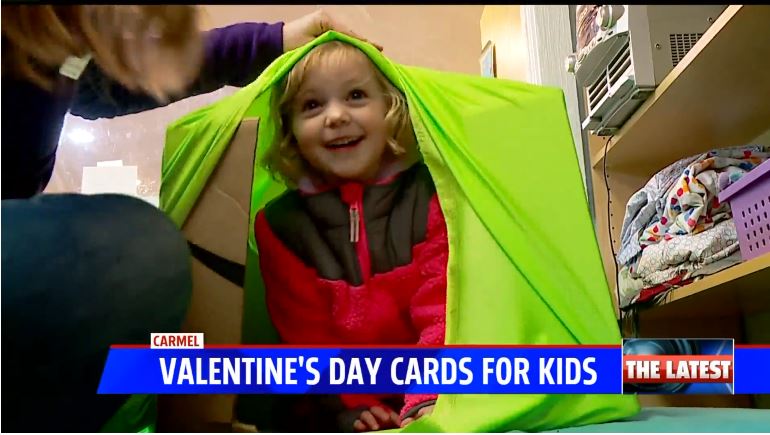 HANK FM Mornings with Dave O'Brien
On-air interview with Kaleigh, Ollie's mom (about 6.5 minutes)
Facebook Live of Dave and Casey making valentines for the kiddos (about 1 minute)
WTHR Channel 13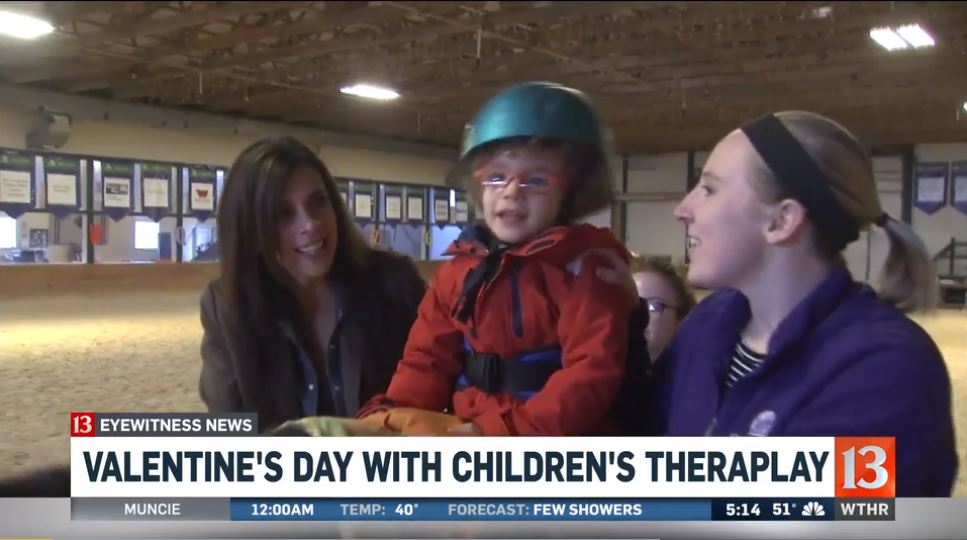 Facebook Live (about 22 minutes): WTHR's AnneMarie Tiernon and Emily Longnecker participate in a treatment, interview executive director Kathy Pelletier, and hand out roses and valentines to celebrate the kiddos
RTV 6 (about 30 seconds)
Amanda Starrantino gets to know kiddo Aria when she brings valentines for the kiddos
One last thank-you
Folks told us that they had so much fun coloring the valentines. We wanted to say thank you with another coloring opportunity: this one featuring therapy horse Hank.
You can download Hank's coloring page here. Have fun!
You might also enjoy