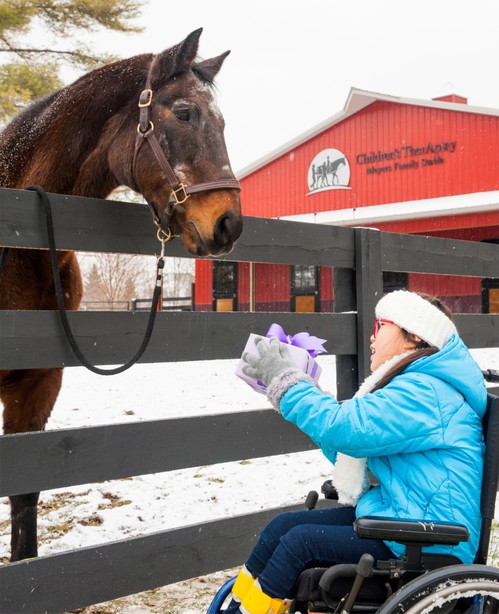 You can help give the gifts of hope, joy, greater strength, and independence to nearly 200 Central Indiana children who have special needs.
These life-changing gifts are made possible through the power of equine-assisted physical and occupational therapies – 8,887 treatments this year alone! – and your support.

Your contribution helps us fund much-needed items like these so the kiddos can continue to benefit from the extraordinary treatment strategy of hippotherapy.
$25: kinesiotape for the kiddos' physical and occupational therapy treatments
$50: a month of nutritional supplements for one of our therapy horses
$78: the gap between our cost to treat and what health insurance reimburses for one hour of treatment
$125: one month of winter essentials like ice melt for the parking lot, Clorox cleaning wipes, hand sanitizer, and Kleenex
$250: so many items that the kiddos use during treatment: up-to-date games and toys, supplies like adaptive scissors and theraputty, and even a sensory swing
$478: maintaining the arena footing that serves our therapy horses and kiddos so well
$767: heating the arena for just one cold month
$2,725: funding skilled horse handlers to guide our therapy horses through equine-assisted physical and occupational therapy treatments for one week
Donations of any amount make a difference.
Looking for the perfect gift for someone who has everything?
If you'd like to honor someone with a donation in their name, we'll send them a personalized, hand-written card featuring the beautiful photo (above) of kiddo Grace and therapy horse Rocky.