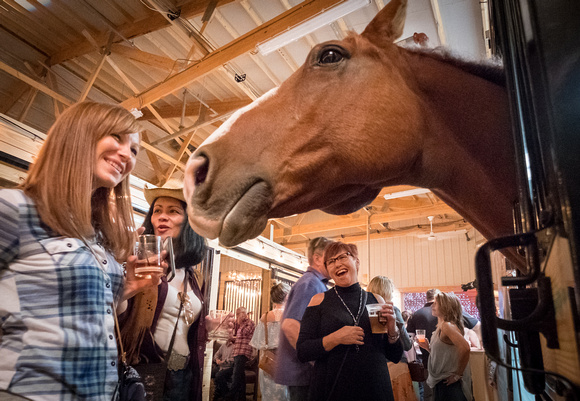 Because of YOU we're able to share these words which, for a small nonprofit organization, are downright thrilling (especially because we can now say them for the third year in a row!):
You helped create the most successful Children's TherAplay Hoe-Down. Ever.
Why does that matter?
Because instead of trying to come up with ways to pay our bills, we can keep focusing on what we do best: helping children grow stronger and more independent through equine-assisted physical and occupational therapies. That's huge!
What does that mean for kiddos with special needs?
Find out from kiddo Joan and his family in this brief video. It's 160 seconds of heart.
Event highlights and results | New Life Skills treatment area | Are you in the 2017 Hoe-Down photo gallery? | Hats off to our sponsors! | Why do we put so much time and effort into the Hoe-Down each year?
What did you help create?
650+ guests kicked up their heels to Corey Cox, sipped fine craft bourbon, bid to win in the live and silent auctions, and attempted to wrangle that mechanical bull.

Nearly all of our therapy horses -- all except half the sponsorship for Padre, our resident comedian -- have been funded for the year. (Let us know if you'd like be part of his funding family, to the tune of $3,900. Padre would be delighted!)
By covering all the Hoe-Down expenses (for the second consecutive year!) Intercontinental Real Estate's title sponsorship ensured that all funds raised through the Hoe-Down go directly towards programs and services for the kiddos. In other words, your donation goes even further!

And, because of you and your great big hearts, nearly three-fourths of the Life Skills treatment area , which will help the kiddos take even greater steps towards independence, has been funded. Want to help make this area a reality for the kiddos? Pitch in today. (Be sure to note that your contribution is for the Life Skills area!)
All told, you helped raise more than $325,000 in funds + so many generous in-kind contributions, all of which will go towards helping children with special needs reach for their goals and dreams. Thank you for the huge difference you're making for these kiddos and their families.
Ever wonder why we put so much time and energy into the Hoe-Down each year?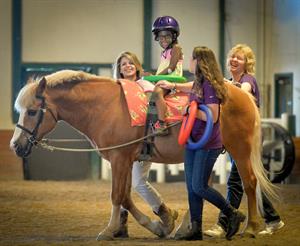 Because equine-assisted physical and occupational therapies can be truly life-changing, and these leading-edge treatments come with a significant price tag.
To be specific, each hour of treatment costs Children's TherAplay $225 but the average health insurance reimbursement is only $92. Contributions through the Hoe-Down help cover nearly half of that annual per-treatment funding gap so, together, we can continue to help Central Indiana children with special needs grow stronger and more independent.