If you saw the Facebook or Instagram post about the #Horsepower500 Team Monster earlier in the week then you already know that Monster Mash is the newest member of our equine family.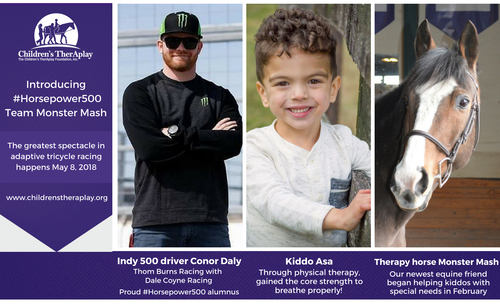 But there's more to learn – and so much to love! – about him. Here's the scoop from his mom Lauren, via the bio she wrote for our website.
Monster Mash
28-year-old Thoroughbred
Monster Mash has a bright personality and an incredible love for children. Monster's first career was as a racehorse, before becoming a competitive jumper who showed in the Indiana Hunter/Jumper circuit. After retiring from jumping, his favorite time of year was
summer horse camp, when he proudly acted as a demo horse, teaching kiddos to groom and tack. At Children's TherAplay, he still thrives on all the attention he gets from staff and kiddos alike. Monster is owned by Equine Program Manager Lauren Copenhaver, who is delighted to be able to see and work with him every day.
Fun Fact: Monster Mash has many different names! As a young racehorse, his registered name was "Bricks Roadrunner." When Lauren bought him in October of 2004, she thought it would be appropriate to give him a Halloween-themed name. Monster became his barn name, and she showed him in the IHJA circuit under the name "The Pumpkin King." Concerned that his name might be scary for the kiddos, Lauren was open to renaming him when he came to Children's TherAplay. However, the name Monster Mash has been a hit since day one!
Bonus Fun Fact: Lauren's mom co-owns Monster, and she proudly calls herself his "Grandma." She loves to visit Children's TherAplay to watch Monster work with our kiddos. Monster (and the rest of the herd) can always count on her to come bearing treats and love!
Thank you Lauren and Monster for being part of the Children's TherAplay family. We're so glad you're here.
You might also enjoy