TherAplay Pivots Services During COVID-19
Following the facility's closure for in-person therapy due to COVID-19, The Children's TherAplay Foundation, Inc., has pivoted services to not only continue providing virtual physical and occupational therapy for children with special needs, but also to provide parents with support and resources to meet needs surrounding e-learning and at-home care.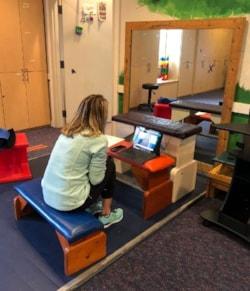 In keeping with state orders for social distancing, Children's TherAplay closed its facility for in-person treatment on March 16th. In the first week following closure, physical and occupational therapists worked feverishly, with the support of other local healthcare providers in Indiana and Ohio, First Steps of Indiana, and major medical insurance providers, including Indiana Medicaid, to launch its teletherapy program the following week on March 23rd.
Our therapists provide individualized, thirty-minute teletherapy sessions which offer the child, as well as the parents, time to connect and work directly with a subject matter expert. Therapists are supporting parents with at-home physical and occupational therapy exercises they can use to ensure the child's progress in hitting development goals is not halted.
Unexpected Teletherapy Benefits
While initially, this program was launched to provide a continuum of care specific to physical or occupational therapy, in the five weeks since its start, our therapists have found there are other meaningful opportunities found in the world of teletherapy, including: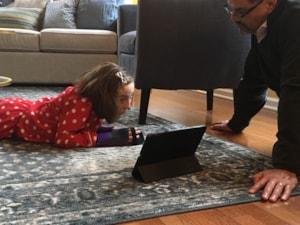 Working with parents and providing resources for successful e-learning in the home environment
Providing a sense of normalcy and routine to the child's schedule
Spending more meaningful time with parents not normally allowed for in the waiting room setting
Seeing the child's physical home environment and the opportunities that exist at home to do exercises and work toward goals
Teletherapy Wins and Goal Crushers!
Our therapists have worked tirelessly to continue providing top-of-the-line care to their kiddos—and its paying off! These kiddos have hit major milestones and developmental goals while "working from home", like shoe tying (shown below!), standing independently, climbing stairs, maintaining eye contact, jumping, and so much more!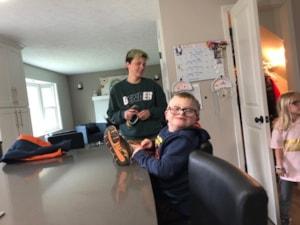 Further, our therapists haven't skipped a beat in their services provided: In the first four weeks of teletherapy, we held 848 total sessions—almost exactly the number of sessions we average with our facility open! Approximately 71% of our kiddos and their families have opted-in to teletherapy—it makes us so happy to see our kiddos continuing to show up every week!
Thank you to our kiddos and families who have made this transition to teletherapy look easy during these uncertain times. We're so eager to get back in the clinic with each of you...but until then, we'll see you on Zoom!