How long have we been holding Children's TherAplay Sibling Camp? As you can see from the photo below, which dates back to 2005(!), for a loooong time now!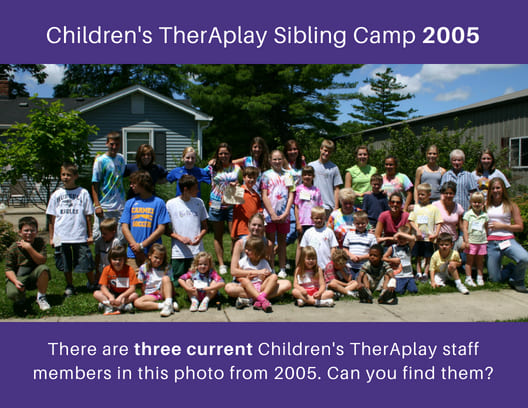 Sibling Camp continues to be one of the high points of the year for the siblings who patiently watch from the waiting room as their brothers and sisters get to have fun during physical and occupational therapy.
How's that?
This is the siblings' chance, the one day each year when they get to be Children's TherAplay kiddos too. So, come this Thursday, there will be pony painting, pony rides, games, arts and crafts, good eats from Chili's, lightsaber training with Phoenix Rising Karate, drumming with Bongo Boy Music, and, as always, smiles and laughs a-plenty.
All the spots in the 2018 Sibling Camp are spoken for but you can play along through a game we're calling "Find the current Children's TherAplay staff members in the photo!" That's right, there are three current Children's TherAplay staff members – one each from the administrative team, clinic, and barn – in the Sibling Camp group photo from 2005.
Want to play along?
Be the first person to identify a staff member (and indicate where they are in the photo!) and we'll give the therapy horse of your choice an extra treat.
Submit your guess through our Facebook or Instagram posts.
You might also enjoy