Ava's Story
As her little girl came into her bedroom and crawled into bed to snuggle with Mom, Danyelle Barker was astounded.
"I just said, 'what are you doing?!' I was so happy and shocked, it's unexplainable. For most parents, this is common. But we just never thought we would get to his point."
"I knew she needed to get stronger."
Kiddo Ava was born at 36 weeks with Trisomy X, and was also recently diagnosed with cerebral palsy. Her low muscle tone prevented her from walking, crawling, and many movements and activities other kids her age were accomplishing.
Danyelle knew Ava would need significant physical and occupational therapy, and was intrigued by the hippotherapy component offered at Children's TherAplay.
"Ava had such low muscle tone, and was just so wobbly," Danyelle said. "I knew she needed to get stronger, and I was determined to find her the best therapy."
The Hope of Hippotherapy
Five years ago, Ava began at Children's TherAplay when she was just eighteen months old—the youngest a kiddo can begin therapy at TherAplay. Danyelle remembers when Ava first began that riding Zippy was a struggle. With such low muscle tone and little core strength, she had difficulty sitting upright and keeping her head up. But now? Zippy is the highlight of her week.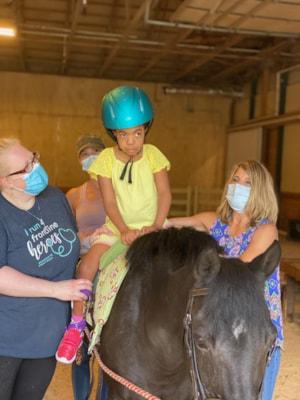 "Seeing Ava ride Zippy, sitting upright and enjoying every minute on horseback, I just can't believe where we started and where we are today."
The strength Ava has gained through hippotherapy has helped her hit huge milestones that provide more independence in her everyday life.
"Just one year ago, Ava took her first steps with a walker. She also can undress herself and climb up on the couch with us instead of us lifting her," Danyelle said. "Because of the top-of-the-line physical and occupational therapists, she is almost caught up to where she should be developmentally. It feels so good and awesome to say that."
Stronger Every Day
In addition to riding Zippy, Ava loves to jump on the trampoline in the clinic—another physical movement she gained the strength for through hippotherapy.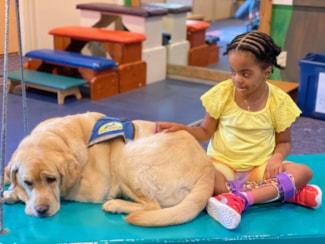 With the combination of hippotherapy and the clinical, play-based PT and OT Ava receives, she often doesn't realize how hard she's working. It all seems like play to her. But Danyelle is constantly reminded of the significance Children's TherAplay has had in their family's life—like when Ava crawls into bed for nighttime snuggles.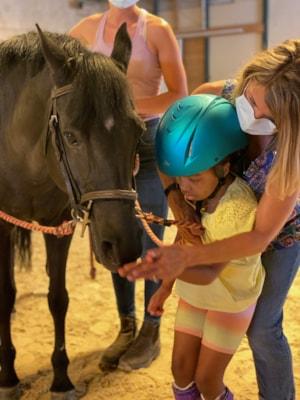 "My baby started at TherAplay with no strength whatsoever,"Danyelle said. "We were able to tell a difference in 6-9 months. If you trust the process, do the work at home, and have patience, it's amazing what kids can accomplish. TherAplay is our family, and we are so grateful."
View more of Ava's progress below: