Kiddo Grace and our new occupational therapist, Miss Katy, met for the first time at Children's TherAplay, yet they spoke to each other, (in Mandarin!) like they had known each other forever. How did this happen?
A Passion For Others
Katy has always known she wanted to be an occupational therapist. Her passion for helping others developed at a young age and led her to pursue psychology in her undergraduate studies, with the hopes of attending grad school for OT.
While in college, Katy had the opportunity to study abroad in Tianjin, China for three weeks, volunteering at a foster home for children with special needs called Shepherd's Field Children's Village. Once she returned, she made a promise to herself: upon completion of her occupational therapy degree, she would return to China and work full time at Shepherd's Field. A few years later, she and her husband did just that!
Hippotherapy Around The World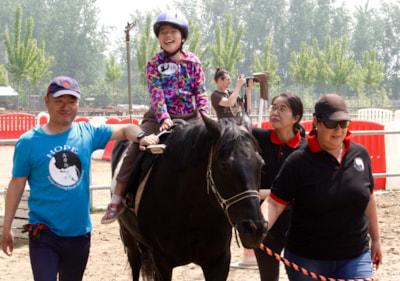 For thirteen months, Katy and her husband lived and worked in Tianjin, China, caring for the many children with special needs living at Shepherd's Field. Katy led the OT program at Shepherd's Field, and also had the opportunity to connect with an organization in Beijing providing hippotherapy to children with special needs! Sound familiar?!
The children at Shepherd's Field came from orphanages in surrounding provinces. The kids were not only taught daily activities through occupational therapy, but even deeper values like placing trust in a caregiver when trust was lost at such a young age.
"When you think about it, trust first comes from your parents," Katy said. "When that is taken away from you as a child, you have to relearn how to trust others. Hippotherapy really helped these kids incorporate trust into their lives by bonding with the horse."
Unfortunately, that trust was put to the test again when new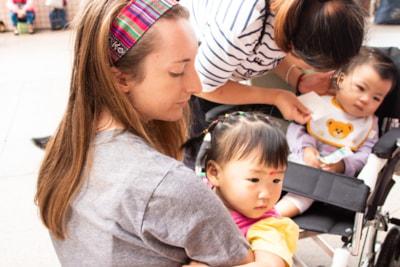 Chinese policy dictated all children must return to their home provinces. Since none of the children were originally local to Tianjin, they all had to return to the orphanages in their home province. Katy was still able to travel to the orphanages occasionally to provide OT, but it was much more difficult logistically and emotionally.
"This was so traumatic for the kids, but I also learned a lot about dealing with trauma myself," Katy said. "It was then that my heart really turned to not only providing OT to children with special needs, but particularly incorporating trauma informed care when necessary."
"Hi, Do You Speak Chinese?"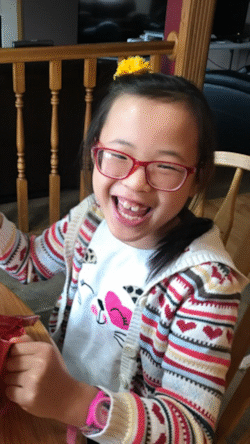 In April 2019, Katy and her husband returned to Indiana, where she
accepted a job as an OT at Children's TherAplay. On her first day, she learned about Kiddo Grace, who herself is recently adopted from China.
When Katy went out in the waiting room to meet Grace, she looked at her and asked in Mandarin, "Hi, do you speak Chinese?"
"Her eyes just immediately lit up," Katy said. "She answered back, and I was able to ask her where she was from, what her favorite color was, those kinds of things."
In that conversation, they made the connection that Grace had actually lived at one of the orphanages Katy visited last year! While they just barely missed each other, Katy had visited with some of Grace's friends who still live there.
"It was so encouraging to me, and very affirming that I made the right decision coming here," Katy said.
We're so excited to have Katy and our many other new PT's and OT's join the Children's TherAplay family. They are all eager to meet our kiddos and share their special gifts with our families.
"My heart is definitely for trauma informed care, and how that can tie in with occupational therapy and hippotherapy," Katy said. "I know it's hard [for parents] to answer those questions [about their child's needs], and I want to be someone who's willing to go down that path with them."