We asked for your support at the annual Children's TherAplay Hoe-Down and, once again, you answered. Contributions are still coming in(!) but it's safe to say that you helped make it one of the most successful Hoe-Downs ever.

Thank you for helping make equine-assisted physical and occupational therapies possible – and in record-breaking numbers! – for children who have special needs.

What does your support mean for the families we serve?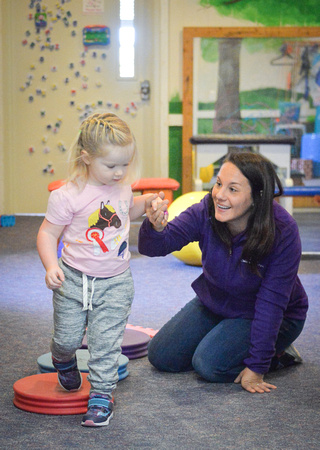 When first starting [occupational therapy at] Children's TherAplay Emmett could not sit in a chair without falling over. Now [he is] playing along the side of his peers. – Emmett's mom, Aryel

Mary Grace started out at Children's TherAplay not being able to walk and barely pulling to a stand, and now [through physical therapy] she is running, jumping, and learning to ride a bike. – Mary Grace's mom, Kelli

I have seen so much progress in Niko's strength, stamina, balance, and ability to play appropriately. I'm so thankful for his amazing therapists who have really worked hard and thought outside the box to find ways to reach Niko and help him meet his potential. – Niko's mom, Rebecca
Thank you, thank you for giving children with special needs the opportunity to thrive.
Ready for more Hoe-Down fun?
Check out the 2018 Hoe-Down highlights video
And the winner of the local media mechanical bull-riding competition is...
Meet all the competitors who threw their hat in the ring
Also, you're the first to know: the 2019 Children's TherAplay Hoe-Down is Sept. 21! Be sure to mark it on your calendar.
You might also enjoy