The Children's TherAplay Foundation, Inc. exists for special needs children and their families but it exists because of our dedicated team of staff, volunteers, families, and supporters.
While each therapy session costs TherAplay $200, insurance generally pays less than half the cost, leaving a significant amount of money which must be made up for in other ways. You can see why community involvement is so vital to TherAplay and the children we serve.
Meet a company with heart

That's why, each time the work crew from J.C. Hart Co. has walked into TherAplay over the past two years, there has been an audible sigh of relief heard throughout our clinic and barn. Our sprinkler system, pipes, filters, and spigots have all been on the receiving end of the Hart team's expertise.
This April, for example, they gave our sprinkler system a much-needed spa treatment, removing, flushing, and cleaning every single sprinkler head in our enormous indoor arena. That's a huge job, made even more impressive by the fact that all those sprinkler heads are 25 feet off the ground!
And J.C. Hart's in-kind contribution adds up for TherAplay in dollars and cents as well. The generous donation of their time and talent means TherAplay is able to save much-needed funds and apply them to other parts of the program.
Three questions for J.C. Hart
TherAplay: Why does J.C. Hart choose to volunteer?
J.C. Hart: Volunteering is what makes our communities work. Whether it's in your schools, your churches, or even putting on the Super Bowl, all civic organizations run with assistance from their volunteers. It is an opportunity to feel a part of something larger than yourself and to connect with other people – sometimes they are like minded, sometimes they are very different from yourself, but it's still a human connection that makes you feel alive and that you're making a difference in the world.
TherAplay: How did J.C. Hart get connected with TherAplay?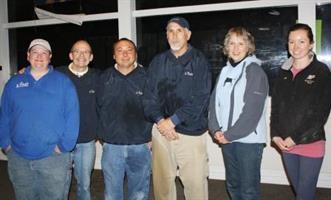 J.C. Hart: A few years ago, Ellen Annela, then CEO and President of United Way of Central Indiana, approached John Hart, the President and owner of J.C. Hart Co., to ask if he would become a contributor to United Way. John enthusiastically said yes and began encouraging the associates of J.C. Hart Company to also support United Way.
To introduce us to some of the many ways that United Way agencies serve their clients, United Way met a committee of J.C. Hart associates at Children's TherAplay to tour the facilities and see firsthand some of the amazing work they do. The committee was blown away. We ended up having a very successful first United Way campaign and it all started with that tour of TherAplay!
TherAplay: What do you enjoy most about volunteering at TherAplay?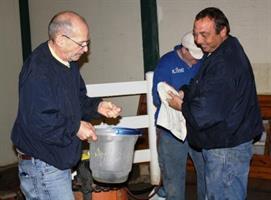 J.C. Hart: When you learn about the countless stories of how TherAplay has positively impacted the lives of children with Autism, Downs Syndrome and other developmental conditions, it makes you feel good knowing you've helped the people who are directly helping these children make these positive strides every day. That's a pretty special feeling.