If you haven't watched this segment on ESPN SportsCenter yet, it is well worth your time.
Get Owen On SportsCenter!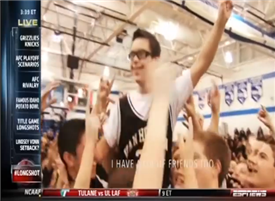 "Get Owen on Sportscenter" features Owen Groesser, a seventh grader with Down syndrome who, after attending every basketball practice and game for the entire season as team manager, gets his chance to play in a game with his team for the first time.
Owen's classmates were inspired to launch a social media campaign which ultimately landed Owen - you guessed it - on ESPN SportsCenter.
There's more to the story though. Watch Now
Children's TherAplay
After you watch Owen's video, be sure to check out the Children's TherAplay Foundation video gallery to learn how TherAplay helps children with special needs, including those with Down Syndrome, in Indianapolis and Central Indiana.