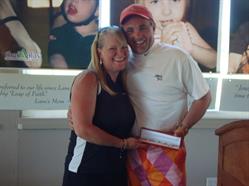 Kristen with TherAplay Founder and Director Craig Dobbs and the prize she won at the 2013 TherAplay Golf Outing. Generous soul that she is, Kristen immediately donated the bracelet to TherAplay for the Hoe-Down silent auction.
You've heard the expression, "It takes a village." Nowhere is that more true than at The Children's TherAplay Foundation, Inc.
One group that is especially critical to the wellbeing of the TherAplay village is our board of directors. These dedicated individuals establish direction, set policy, share their professional expertise, and assist in fundraising and awareness-building for TherAplay.
If that sounds like some heavy lifting, it's because it is. And we are so truly appreciative.
A special thank-you
Kristen Durrett of AutoTrader.com, who recently completed her two-year term as board president, had never heard of TherAplay until fate intervened in the form of Caroline Young.
As they chatted at a function one evening, Kristen told Caroline that she'd like to get back into volunteering, especially in a way that helped children with special needs. At that time, as Kristen puts it, "I had no idea that Caroline was the current board president of TherAplay or what TherAplay was."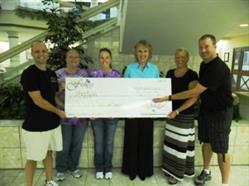 Kristen, TherAplay Executive Director Lisa Kobek (in blue shirt), and members of the Town of Fishers G.l.V.E. Committee are all smiles following the Committee's check presentation.
Later that same week, a trip to TherAplay with Caroline changed all that. Kristen reports, "From that first visit, I was hooked! Seeing the kiddos sparkle when they were riding the horse during therapy was all it took."
The board, like Caroline, clearly knew a good thing when they saw it: Kristen was invited to join them in 2008. Since then she has been a tireless advocate for TherAplay and the children we serve.
When we asked her what she's most proud of from her term as president she was quick to respond, "How much each and every board and staff member has really stepped up and given to the organization to make it a better functioning facility."
Now that's a legacy to be proud of. Thank you Kristen.
And a special welcome
As the new board president, Debra Hays of Community Health Network will lead the charge for the next two years. She is joined by eleven other talented board members, Kristen included.
Of the many wonderful non-profit organizations out there, we count ourselves blessed that they've chosen to serve at TherAplay. Thank you board members for your service. Your contribution makes a world of difference.
You might also enjoy
We're inspired every day by the generosity of our community. They ensure we are able to do our very best work: helping children with special needs become stronger and have more opportunities.