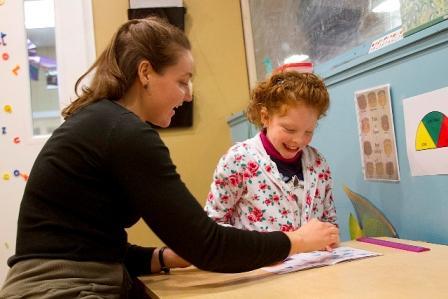 Occupational therapist Abigail with one of the kiddos TherAplay serves. Those are some pretty big smiles!
Lately we've been sharing some of the successes of the sensory kids TherAplay serves. Today we have more great news to share.

Many of our kiddos have sensory challenges and, when they give a thumbs-down on foods because of textures which, to them, seem odd or uncomfortable, it can translate into a very limited diet. But able assistance from our talented pediatric occupational therapy team can help these kiddos open to new tastes and textures.
For example, in the past few weeks, one kiddo tried eating buttered popcorn for the first time and exclaimed "It's yummy!" And another child, who tried eating scrambled eggs for improved variety in diet, swallowed all six bites within one minute of chewing!
Congrats to our kiddos on their big steps forward. We're sending you a big forks-up!
See what else our special needs kiddos can do!
And be sure to join us on the TherAplay Facebook page, www.facebook.com/ChildrensTherAplay, for photos, kiddo successes, and fun!