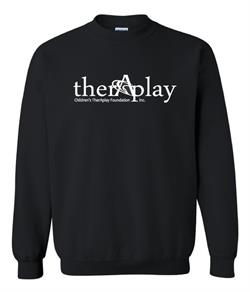 If you've been looking for a gift for a fellow TherAplay supporter (or yourself!) or a way to add a little extra warmth, we can help.
Although we occasionally offer TherAplay t-shirts, this is the first for a TherAplay sweatshirt. It's a rare opportunity and just in time for cold weather!
TherAplay sweatshirts are available for order from now until 6 p.m. Wednesday, November 27. At $20 each, these make an affordable gift and are a great way to show your support for The Children's TherAplay Foundation, Inc.
Product details
Item: medium-weight, crew neck sweatshirt with large white TherAplay logo on the front
Color: black only
Sizes available: Youth Small through Adult XX Large
Please note: these sweatshirts do run small
Price: $20 each, paid when you place your order
How to order and receive your sweatshirts
Stop by or call the TherAplay front office at (317) 872-4166 between 8 a.m. and 6 p.m. Monday through Thursday or from 8 a.m. to 5 p.m. on Friday.
Let us know the quantity and sizes of sweatshirts you'd like to order.
Pay for your sweatshirts by cash, check, or credit card (Visa, MasterCard, or Discover) when you place your order.
All orders and payments must be completed by 6 p.m. on Wednesday, November 27.
Sweatshirts will be available for pick-up in person at the TherAplay front office between 8 a.m. and 6 p.m. Tuesday, December 17 through Thursday, December 19, and 8 a.m. to 5 p.m. Friday, December 20.
Questions? Contact Diane McOmber at dmcomber@childrenstheraplay.org.
These sweatshirts are only available for a short period of time, so be sure to order yours today.
Thank you so much for helping support TherAplay!