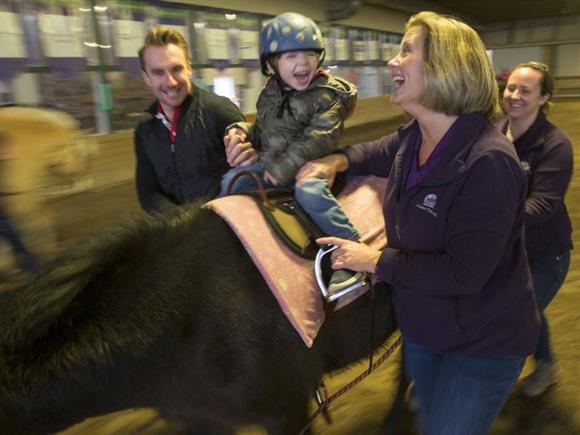 Photo courtesy Robert Scheer / Indy Star
Kannon, like many of the kiddos we serve, currently speaks only a handful of words: yes, no, and mama among them. But your heartfelt and handmade valentines set the stage for something completely unexpected.
This Valentine's Day Kannon surprised us all by saying – all on his own! – a new very sweet word. It melted the hearts of everyone present, especially the Indy 500 driver Kannon said it to.
What makes Kannon's new word even more remarkable?
We do not offer speech therapy. But the equine-assisted physical and occupational therapies Kannon receive at Children's TherAplay improve his stability, body awareness, and alertness, which primes Kannon for interaction and learning.
Now back to Kannon's sweet new word.
It started with your valentines
We asked and you answered, to the tune of 400+ valentines that poured in from friends at JC Hart, Natural Beginnings Childcare, Hull & Knarr, Pleasant View Elementary School in Zionsville, NAMI, our volunteers, our current and past patient families, and so many other wonderful folks. (Thank you for showing such heart and helping make this Valentine's Day an extra-special one for the kiddos and their families.)
When you have such special valentines for such special kiddos, you've got to have someone special to hand them out. So Jay Howard, who raced in both the Indianapolis 500 and the Children's TherAplay #Horsepower500 last year, and his wife Courtney, a former 500 Festival princess(!), joined us to hand out the valentines you so lovingly created.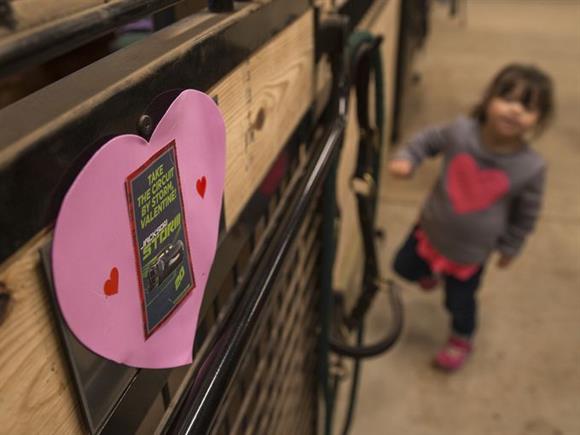 Photo courtesy Robert Scheer / Indy Star
Kannon had something to say about it
The Howards also joined the kiddos for their physical and occupational therapy treatments. That's when Jay and Kannon met – and proceeded to smile and giggle and outright laugh their way through on-the-horse treatment time together.
With the equine-assisted portion of his therapy complete, Kannon and physical therapist Miss Sue headed over to the gym to practice some climbing skills. Jay stood a few feet away, just out of Kannon's line of sight. Until Kannon had something to say about it.

This young child, who says so few words, stopped on the second rung of the ladder, slowly swiveled his head to the left, and whispered – unprompted and all on his own – that new word: Jay.
Kannon may not have realized that the gentleman to his left was one of the few drivers in the world to've competed in the Indianapolis 500, but he certainly recognized a new friend when he saw one. And Kannon wanted that friend to come play.
Fast friends
Needless to say, Jay sped right over and, at Sue's suggestion, up to the top of the climbing tower to cheer Kannon on in his work. Our therapists often tell people that the horse is a motivating factor when it comes to pediatric physical and occupational therapies. To which we will add: so are the INDYCAR drivers.
Thank you Jay and Courtney – and all those who sent in Valentines! – for sharing your heart with these kiddos.
By the way, did you see the photos from this special day in the Indy Star?
So many folks called and emailed to say how much they enjoyed the photos and write-up by Indy Star photojournalist Robert Scheer!
You can find more photos from Jay and Courtney's visit online in the IndyStar photo gallery.
You might also enjoy
Kannon's "monster steps" to Jay in physical therapy
Unmute the video to hear Kannon's giggles!
After lots of hard work, Kannon is so close to being able to walk independently. Those monster steps help him shift his weight and increase his ability to swing his legs further ahead of him. #OneStepAtATimeKiddo