You can help make life-changing therapies possible for Central Indiana kiddos with special needs
Current openings
At this time, we have immediate openings for the following positions:
PRN Physical and Occupational Therapists provide high-quality individualized, one-on-one treatment both in the clinic and on horseback for our patients: children, ages 18 months to 13 years, who have special needs.
These positions are currently available as full-time (staff), part-time (contractor), and PRN (contractor).
Physical Therapist | Occupational Therapist
Interns engage in tasks ranging from carrying out daily operations to participating in the planning, organization, and completion of programs and events. (Get the inside scoop from one of our past interns, Logan.)


Rehabilitation Technicians assist our physical and occupational therapists during treatment, both in the clinic and in the arena, and help maintain a safe and clean working environment.



Horse Handlers work with our trusty steeds during therapy sessions and assist the equine team with horse and facility care.
What's life like at Children's TherAplay?
Here's how one member of the team describes it.
With my office so close to the clinic, I am privileged to enjoy [the kiddos'] successes in the clinic on a daily basis. The therapists are always so loving and encouraging and quick to praise EVERY success no matter how big or how small.

Watching the patients gain confidence as they develop new skills is rewarding. Seeing a child enter the clinic on the first day as an apprehensive and tentative patient and developing his/her potential through fun activities with a therapist is all the reward you could want. We are blessed here at Children's TherAplay to witness this EVERY day!

– Billing Manager, Diane McOmber
As a member of the Children's TherAplay team you will…
Be one of a select few to work within an organization providing a unique, specialized therapy.
Be a part of one of the world's premiere hippotherapy facilities.
Find tremendous purpose in helping children – and their families – who have special needs.
Enjoy a close-knit, collaborative environment.
Apply your skills in a warm, casual, fun environment – we're located on a working horse farm!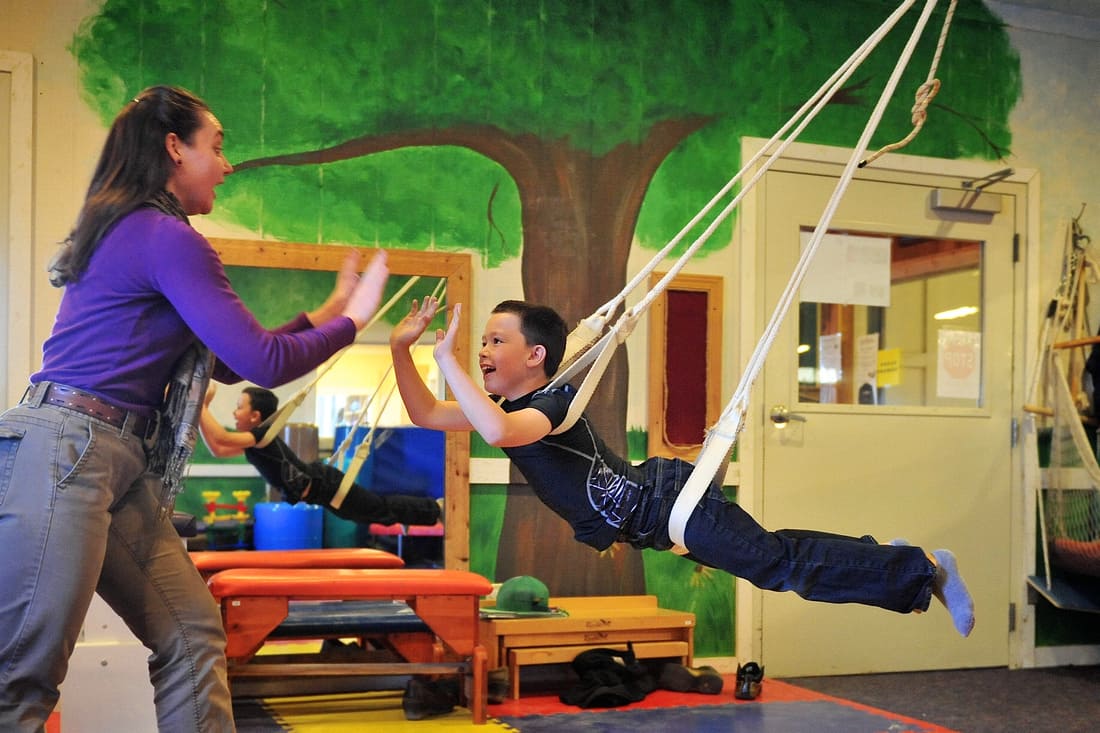 Equal opportunity employer
Children's TherAplay is an Equal Opportunity Employer. Because we value the diversity of our community, the Board of Directors, staff, and community stakeholders encourage the recruitment of a diverse workforce. It is the belief of all associated with Children's TherAplay that bringing together different experiences, beliefs, and cultures allows for the best possible services to our constituencies.
Diversity and inclusion
Children's TherAplay Foundation is committed to the inclusion of and full participation by all persons in the achievement of its mission. It is the belief of all associated with Children's TherAplay that bringing together different experiences, beliefs, and cultures allows us to collectively and more effectively serve our constituents, our community, and our world.
Diversity is the quality of being different or unique at the individual or group level. This includes age; ethnicity; gender; gender identity; language differences; nationality; parental status; physical, mental and developmental abilities; race; religion; sexual orientation; socio-economic status; and more.
Inclusion is a strategy to leverage diversity. Diversity always exists in social systems. Inclusion, on the other hand, must be created. In order to leverage diversity, an environment must be created where people feel supported, listened to and able to do their personal best.
Children's TherAplay will provide equal opportunity in the delivery of services and in employment without regard to race, color, religion, national origin, disability, genetic information, age, gender, sexual orientation, gender identity or expression, or veteran status. Furthermore, Children's TherAplay shall, to the fullest extent possible, refrain from making financial or contractual commitments to any other agency, organization, business, or industry which practices, condones, or perpetuates discrimination in employment and/or provision of services.