Ollie's Story
When Kaleigh Fruits thinks back to her family's life six years ago, she remembers a lot of "no's".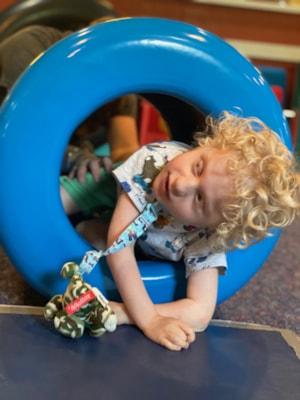 "It was a really tough time—there is just so much doubt and you are constantly told no, your child won't do this or that. You can't see what the future looks like," Kaleigh said.
Exploring His World
Kaleigh's son Ollie was born deaf and blind, making his world a scary place and causing his parents to immediately look into different therapy options. In addition to his sense limitations, he was missing canals that prevented him from having much control over his body, including his neck and core. After doing some research, Kaleigh found Children's TherAplay and was intrigued by the inputs hippotherapy could provide for Ollie.
"We brought Ollie in when he was 18 months and three days old," Kaleigh said.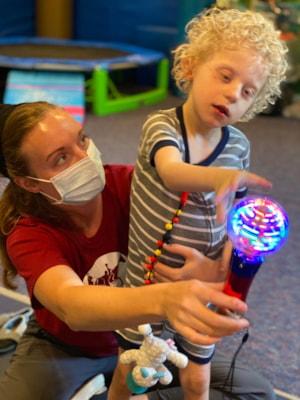 "At that time, he was still less than ten pounds, and I remember his therapist lining the helmet with cloths so it would fit his head."
Because Ollie is both deaf and blind, he did a lot of initial exploring with his feet because that felt the safest for him. Feeling the horse's hair for the first time was a scary experience for him at first, but today the horse is Ollie's favorite part of therapy.
"When we started, Ollie couldn't hold his head up or sit up, but now we have a child who has the core strength thanks to these horses and their gait to provide him with all this input and build these muscles on him, which is incredible," Kaleigh said.
"Nothing can replace that horse."
The hippotherapy portion of treatment has become such an important part of Ollie's care because of the various inputs it provides and the sensory experience it gives Ollie. During TherAplay's shutdown due to COVID-19, Ollie continued in telehealth, but Kaleigh could tell they were missing a key component of his normal therapy sessions.
"Nothing can replace that horse," Kaleigh said. "We did so much at home to try and mimic the horse during telehealth. We even bought a rocking horse! But it can't move like the horse and just can't be replicated at home. These kids thrive and excel when they're on horseback getting those inputs."
Seeing The Positive
In the last six years of Ollie coming to Children's TherAplay, the Fruits' family considers hippotherapy, in conjunction with his PT and OT, as the most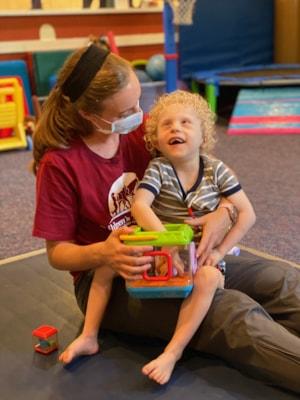 monumental therapy for Ollie's gains and growth. He no longer explores with only his feet—Ollie loves to crawl around and touch all sorts of things. Because he is both deaf and blind, his parents were told he would always be fearful of animals. Yet, he has a service dog he adores, and rides his buddy Red at TherAplay every week.
What's the difference? Kaleigh says: don't give into the doubts.
"You can't see the future, but you can at least provide," Kaleigh said. "I always say that if you give Ollie a mountain to climb, that boy will climb it every time. You have to give kids the opportunity to prove themselves. Just because someone is saying no doesn't mean they won't succeed."
And to those who have supported kiddos like Ollie through donations and love, the Fruits family says "thank you."
"Donors give families the resources TherAplay provides with excellent therapists and amazing horses, and we need to continue to be able to provide that for these families," Kaleigh said. "We're just one of many who has been ever so grateful for these donations. Seeing these kids' faces and what TherAplay can offer is nothing short of incredible."