Big Announcement From The Clinic!
Thanks to a generous grant from the Hoover Family Foundation, we are excited to announce a new role at Children's TherAplay! Our new Autism Specialist will serve as a resource not only to staff, but also to parents and the community in the area of effectively treating children with autism using hippotherapy.
We are doubly excited to share that Miss Leah will be stepping into this role! Leah has over 10 years of experience working with children with autism (3.5 at Children's TherAplay) and has both the heart and great gift for teaching others and learning more about the needs of children with autism.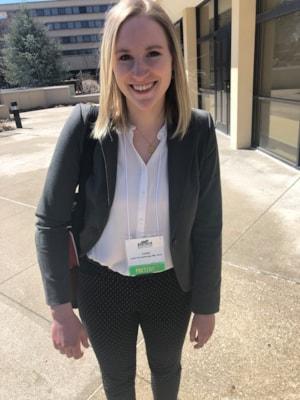 "I am really excited to be able to empower the staff here to increase their skills in working with kids with autism, as it's our fastest growing patient population," Leah said.
A Resource For All
As the Autism Specialist, Leah will be completing a Sensory Integration Certificate Program online through the University of Southern California, as well as obtaining an Autism Specialist Certification. Both of these continuing education opportunities will provide Leah with the tools necessary to advance the quality of care for patients with Autism Spectrum Disorder (ASD) at Children's TherAplay.
Leah will host a quarterly in-service for our therapists, as well as an annual Parent Workshop to engage with TherAplay families and community members on the latest trends in ASD treatment.
Alongside formal trainings, Leah will provide daily mentoring, share resources, and be a source of knowledge to therapists, staff, and families. Miss Leah will continue to see her current caseload of clients with a wide range of diagnoses, including autism. She will be an available resource for our other incredible therapists to rely on to ensure effective intervention plans and home programming.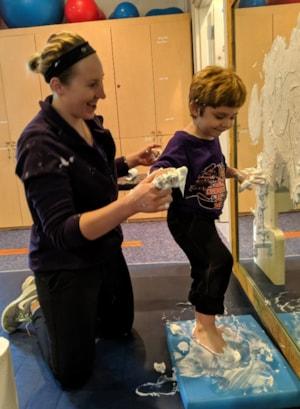 Why An Autism Specialist?
One in every 59 children in the US is diagnosed with ASD. In fact, children with ASD are our fastest growing patient population at Children's TherAplay, with a 50% increase in numbers in 2019. Therefore, it is vital we continue to best meet the needs of our community and families with effective, emerging treatment strategies tailored specifically to the needs of children with ASD.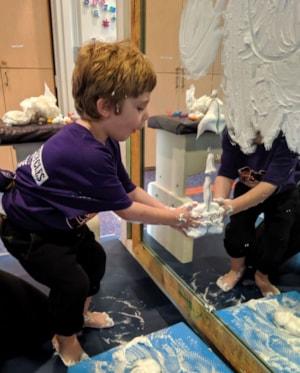 Sensory integration is a major topic when learning about kiddos with autism, and Leah will learn how to best incorporate unique and fun sensory ideas into treatment. By working with different textures and sounds during sessions, it can increase a kiddo's interest in trying new foods, participating in new activities, and decreasing sensitivity to certain elements.
Sensory Integration At Work
Leah is excited to continue working on sensory integration in her treatments, as seen here with kiddo Henry! Using the shaving cream on his hands and feet allows Henry to work on motor planning and decrease sensitivity to certain textures.
​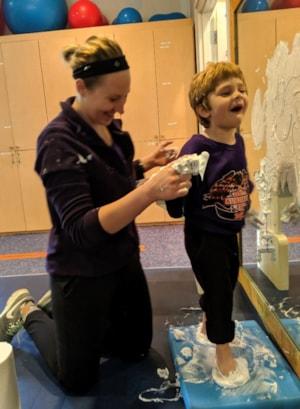 "Building positive relationships in treatment to focus on a kid's strengths rather than weaknesses is important to me," Leah said. "It's great to have a place where kids feel safe, welcome, and get to be who they are."