Our Day of Giving Goal - $7,500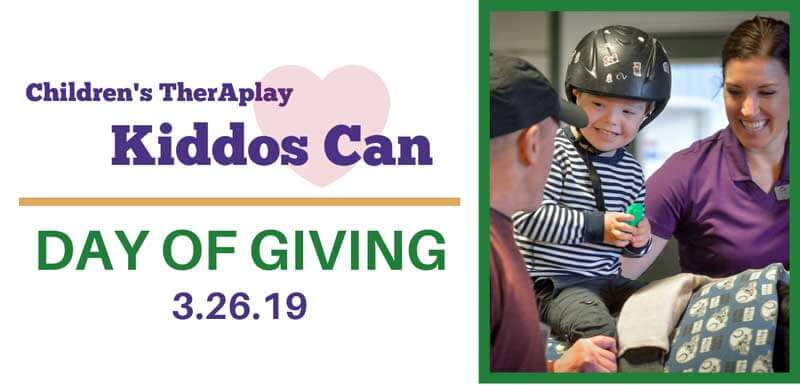 Join us on March 26th as we wrap up Disability Awareness Month and celebrate our inaugural Kiddos Can - Day of Giving. This year's 24-hour online Day of Giving will help ensure TherAplay is able to sustain our mission so that lives can be changed and kiddos can continue working towards independence.
How can you help?
Donate via the online link (coming soon!). No gift is too small. Our Day of Giving is a team effort and every dollar helps us reach our goal.
Share the link with family and friends. Tell them why Children's TherAplay is important to you and ask for their support.
Share the link via email, social media and make phone calls.
Why our Day of Giving matters?
Kiddos Can – Day of Giving takes place during a time of year when organizationally we need it the most. This is a special opportunity to participate with the Children's TherAplay community and share your TherAplay pride! We are honoring our graduates who have paved the way for so many and preparing for those kiddos that will need us down the road.
How do I ask people to donate?
Copy and paste the email sample and social media post sample below. All you must do is update the reason you are raising money for Children's TherAplay. Send your email out to family and friends. It's that easy.
Email
Please consider supporting me in my efforts to raise funds for The Children's TherAplay Foundation mission by supporting their inaugural Kiddos Can – Day of Giving. Children's TherAplay offers equine-assisted physical and occupational therapy to benefit children – and their families – with special needs.
I have seen first-hand the incredible impact Children's TherAplay can have on a child's life. [INSERT YOUR THERAPLAY STORY HERE] .
Donating is easy! Please click on the link below (link will be provided soon) and follow the steps. No gift is too small, and every dollar helps us reach our Day of Giving goal of $7,500.
Thank you in advance for your support and for ensuring that Kiddos Can for many years to come.
[NOTE: DO NOT FORGET TO INCLUDE THE LINK.]
Social Media
Please support me in my efforts to raise funds for Children's TherAplay Kiddos Can – Day of Giving. [SHORT NOTE WHY YOU ARE RAISING FUNDS]. Your gift will make a significant impact on the many lives that hippotherapy has changed. [DON'T FORGET TO INCLUDE FUNDRAISING LINK WITH YOUR POST.]
Who can help me with questions I have?
Please contact Kathy Pelletier or Emily McDermott with your Day of Giving questions. We are here to help!!