"The best and most beautiful things in the world cannot be seen or even touched, they must be felt with the heart!" - Helen Keller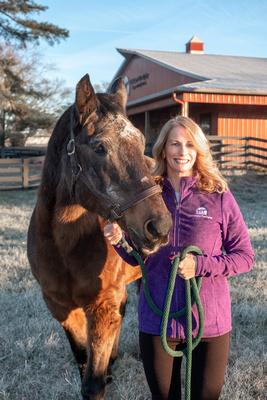 For eighteen years, Children's TherAplay has been a conduit between a child's unfettered desire to break down walls, and a parent's dream of firsts they've been told were not possible. The pursuit of those desires and dreams are what keep the volunteers and staff, of which I now humbly include myself, working tirelessly to serve our kiddos.
Did you know, since 2013 we have increased the number of treatment sessions we provide each month by four-hundred and twenty? It has been our loyal families and a supportive community who have made this growth possible. Seven additional horses have entered our kiddos lives to share the unique gift only they can provide…hippotherapy. No animal on earth can do for these children what horses can. It's remarkable to behold! Finally, and perhaps most importantly, we are now serving approximately eighty-one additional kiddos each month with hippotherapy allowing us to touch more lives than ever before.
Since opening in 2001, Children's TherAplay has experienced transformational change. And as I imagine what my time here will look like, I could not be more excited to be a part of this organization as we enter a new phase. Our growth in treatment capabilities will soon be matched by much needed capital improvements to our facility, and I look forward to sharing more information with you about these improvements in the coming months. We will take a comprehensive approach to investing in our talent to ensure the highest level of quality and continuity in the care we provide to our kiddos. Additionally, TherAplay will actively seek opportunities to be a voice for our kiddos and families in the central Indiana community, telling their stories of life-changing outcomes to develop partnerships which ensure positive change is sustainable through philanthropic support.
Children's TherAplay is a beautiful thing. It may not be easy to see at first glance of the chipped paint on the walls or the sand on the floor, or when you are walking outside to get to the restroom on a cold winter's day; but it takes only a short time inside these walls until it can be felt with the heart.
The future looks extraordinarily bright! I am very excited to get to know you all better and serve as your executive director for this journey!
Kathy Pelletier
Executive Director
Children's TherAplay Foundation, Inc.