"She's been determined since she was born"
You'd never know, from the way five-and-a-half-year-old Laila giggles and skips and hops her way through physical therapy, that she wasn't able to sit up until she was 13 months old, the same age at which many children begin walking.
Gross motor delays are a hallmark of hypomyelinating leukoencephalopathy, or the loss of white matter in the brain, a disorder which, in Laila, resulted in profound sensorineural hearing loss; challenges in balance, strength, and coordination; and decreased safety awareness.
After hearing many glowing reports from the mother of one of Laila's classmates, who was already receiving physical therapy at Children's TherAplay, Laila's parents called to set up an appointment. That was two years ago. They've been coming once a week for equine-assisted physical therapy ever since.
After just a few treatments
Victoria, a registered nurse, and her husband Quintin, an athletic administrator, began noticing a difference in Laila after just a few treatments. "She started to get a little bit stronger. We could see her endurance getting better."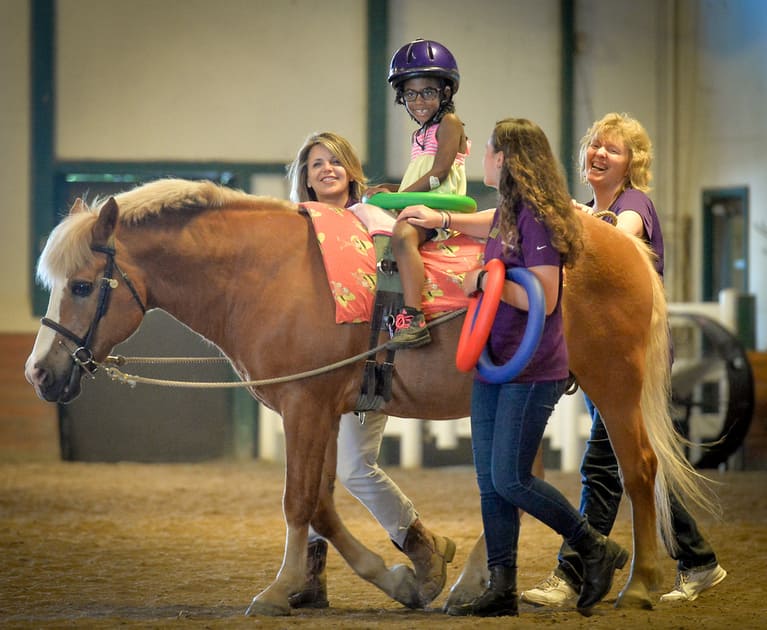 And the tumbles Laila frequently took when she walked also diminished as physical therapist Teresa Keathley and the therapy horses applied hippotherapy – the movement of horses – to challenge Laila's balance.
Teresa explains, "When Laila first started coming for treatment, she wasn't able to maintain midline – which is her orientation, her center of balance – on Mikey. She would drift to the side," which explained Laila's tendency to fall over while walking. "In hippotherapy Laila has to continually adjust to the horse's movement in space in all the same planes of movement as walking. Every step the horse takes works on her balance and postural reactions."
"She's so excited to show us"
Those balance reactions are crucial components of a skill that Laila is especially proud of: "She's so excited to show us that she can stand on one leg and hop," Victoria shares. "That was very hard for her. [Before she came for treatment] she could only do that for a second."
Her newly-gained balance reactions, when combined with coordination, lower extremity strength, and motor planning skills, have also helped Laila achieve one of her initial long-term goals: skipping in a reciprocal pattern. And just last week, she had a big day with the balance beam. "Normally Laila just walks a few steps on the balance beam [before falling off]," explains her mother. "For her to have walked back and forth a few times is a big thing!"
Something in common with therapy horse Mikey
All those skills and body awareness have also helped her parents breathe easier. Like so many of the kiddos we serve, Laila enjoys a special bond with the therapy horses, Gideon and Mikey, who help her so much. But she especially liked to tell people about Mikey (pictured at left, wearing a fly mask) because the two of them have something in common: they both lost teeth.
Mikey's dental removal came via the veterinarian. Laila's front tooth came out when she lost her balance on a piece of playground equipment over a year and a half ago.
Decreased safety awareness, which comes along with white matter loss, was one of the primary challenges she was struggling with before beginning physical therapy at Children's TherAplay. So, Laila and Miss Teresa work on the skills that will allow Laila to safely navigate her environment. During the clinic-based portion of her treatment, Teresa and Laila walk the balance beam, make excellent use of the bosu ball, and run obstacle courses that challenge Laila in a variety of ways.
And it's working, which comes as a "sigh of relief" for Victoria. "Before [Laila started treatment at Children's TherAplay] it was difficult to climb on playground equipment with her peers. Now she's able to play more safely and independently."
Tremendous progress
That's one of the big changes that's come for the entire family since Laila began her weekly physical treatment at Children's TherAplay. "We definitely feel more comfortable and safe," Victoria tells us. "We notice her tremendous progress. …When we go on different family outings, she is so much better about not having to rest or ask to be carried because of her strength." The child who sometimes had to sit on the sidelines can now keep up with her little sister. It's a joyful sight.
What makes it even more of a joy is how much Laila enjoys her treatments. Her mother tells us, "She knows when we're supposed to be at Children's TherAplay. Laila looks forward to it every week."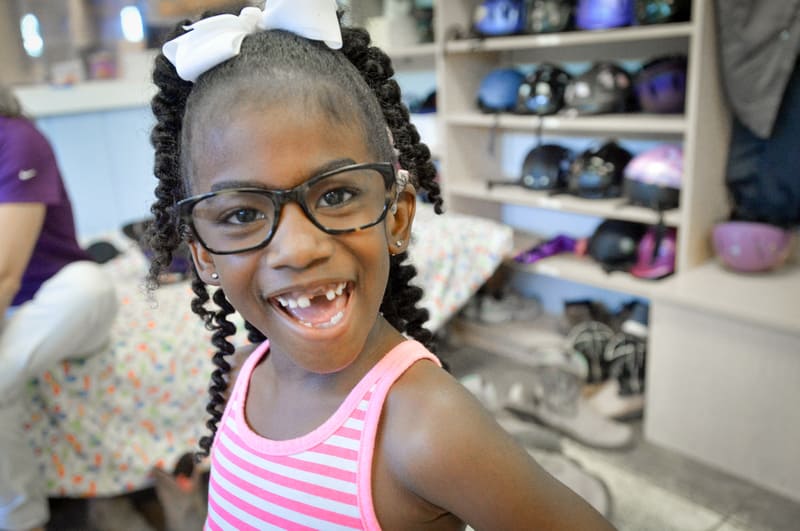 "It's such a blessing"
So does Victoria. "We are so appreciative that Laila has had the opportunity to receive her physical therapy at Children's TherAplay. It's such a blessing that she's able to do more than just traditional physical therapy to meet her needs. … Keep up the great work."
We will and so will Laila. Her mother tells us, "Laila will just keep working and working. She's been determined since she was born. She won't let anything stop her." Neither will we.