Jennifer clearly remembers the first time her daughter was able to make a full lap around the arena while standing upright on a therapy horse. Lauryn's smile was pure sunshine. Here was a child who fell more than she walked yet, through equine-assisted physical and occupational therapies, had developed the core strength and balance reactions to stand tall and proud as her therapy horse circled the arena. "She was so excited. She said, 'I did it! I did it!'"
It was a big day
That gain, and the many others Lauryn has made, seemed a long way off before she started treatment at Children's TherAplay. While she was a bright and happy three-year-old, engaging with her environment was difficult due to low tone and developmental delays. Lauryn was walking but unsteadily. And uneven surfaces, even slight ones like grass, caused her to tumble. Similarly, getting dressed and undressed required a great deal of assistance. And when it came to her four older siblings, as her mother shares, "She was trying to keep up with them and wasn't always successful."
Hippotherapy was helping her daughter
Jennifer saw definite changes once Lauryn started coming to Children's TherAplay.
Hippotherapy – physical and occupational therapy utilizing the movement of horses – along with treatment in the clinic was clearly helping her daughter. The dynamic movement of riding standing up on the horse, just one position used in her treatment, developed Lauryn's core strength and balance reactions which translated into a smoother and safer gait.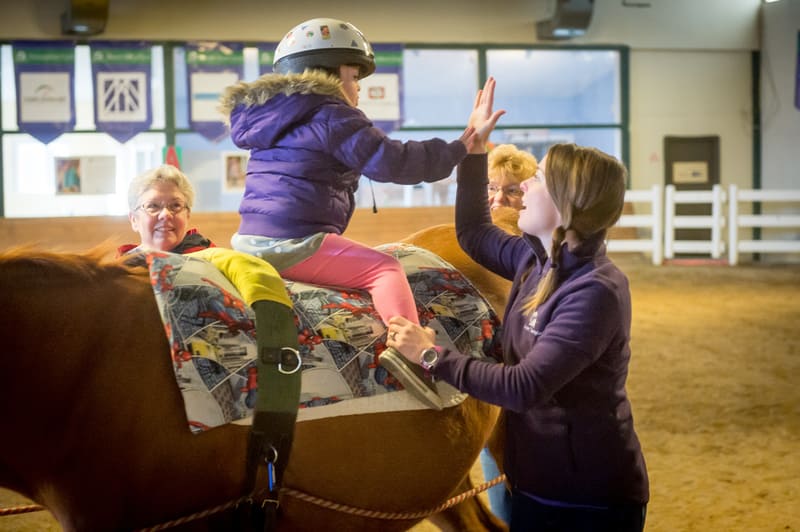 The "puppy dog" position, where she rides on her hands and knees, worked on her core and shoulder strength. This allows Lauryn to sit at a table, properly supporting her body with good posture, for coloring and handwriting tasks. And putting on her socks. Which Lauryn recently did for the first time. In the car. All by herself.
"...Surprising us all"
Most people don't think about all that's required, but it takes a great deal of core strength and motor planning to put on socks with both hands. Occupational therapist Becca Lassell beamed, "I'm so proud of her accomplishment!"
Her family is too. "She's surprising us all," Jennifer relates. "When she does something new, especially gross or fine motor, we know that it's because of Children's TherAplay that she's growing in those areas."
That's why they make the 40-minute drive – an hour in heavy traffic – each week for Lauryn's physical and occupational therapy treatments. Well-meaning friends often ask, "You go there every week? Can't you find something on the south side?" to which Jennifer replies, "Yes, every week. It's always worth it to make that drive."