Most parents, when asked what stands out to them most about their time at The Children's TherAplay Foundation, will point to a specific gain. Like being able to sit up or walk for the first time, or tie their shoelaces. But for Kaleigh, whose son Ollie, receives both physical and occupational therapies at Children's TherAplay, it is something completely different. It is the way Ollie's whole world has opened up.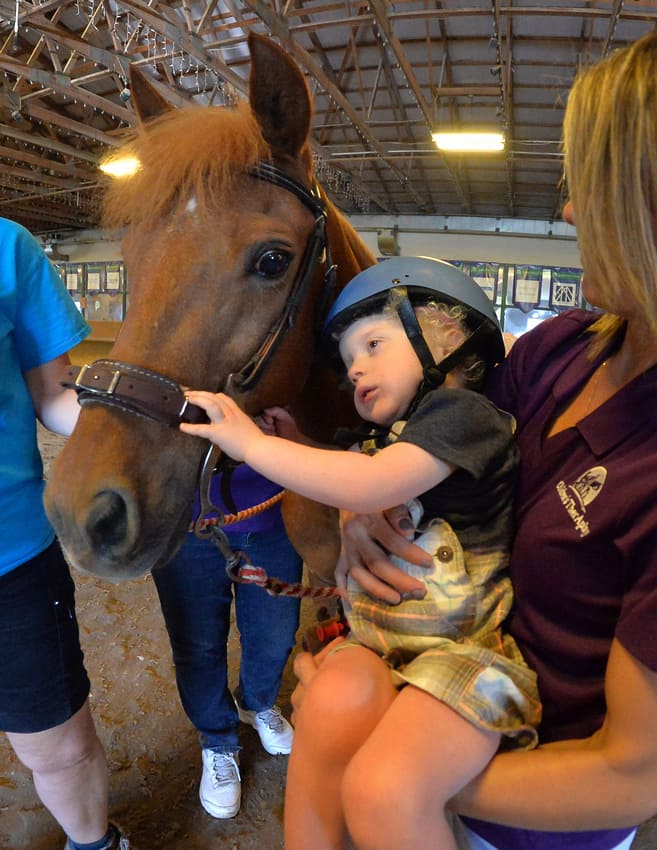 As Kaleigh explains, "For the first year and a half, [his life] was constant surgeries. He naturally didn't want to be touched or held. He would prefer to be in a dark, quiet little area by himself. And for a mother that's so heartbreaking."
But, with treatment, life has changed dramatically. Now Ollie eagerly explores the world around him, even wrapping his arms around his therapist's neck in greeting. "Here we are and he's five-and-a-half years old and it's incredible. …It's completely remarkable to see how he's unfolded since he started Children's TherAplay."
Like many of children who receive treatment at Children's TherAplay, Ollie is living with extensive medical and physical challenges. In his case they spring from a rare and complex genetic disorder, CHARGE syndrome, which results in loss of hearing, sight, and smell; heart defects; low muscle tone; feeding and swallowing difficulties; and a marked lack of growth and development.
"Just wait and see"
His parents tried traditional physical and occupational therapies first. Kaleigh notes, "We were making progress in early intervention, but it was very slow. … Ollie had hardly any neck or head control, no trunk, no desire for touching or any sensory input." Which sent his parents searching for something more effective.
Kaleigh's heart lifted when she learned that those with CHARGE syndrome respond particularly well to hippotherapy. Her husband, however, was skeptical. "I can remember, when I started researching hippotherapy, Jason looking over at me and saying, 'You have lost your mind. You are going to put our little peanut of a child on a monster of a horse? What do you hope to accomplish?!?' And I told him 'just wait and see.'"
"Nobody believed me when I said he was 18 months old. He weighed 10 pounds."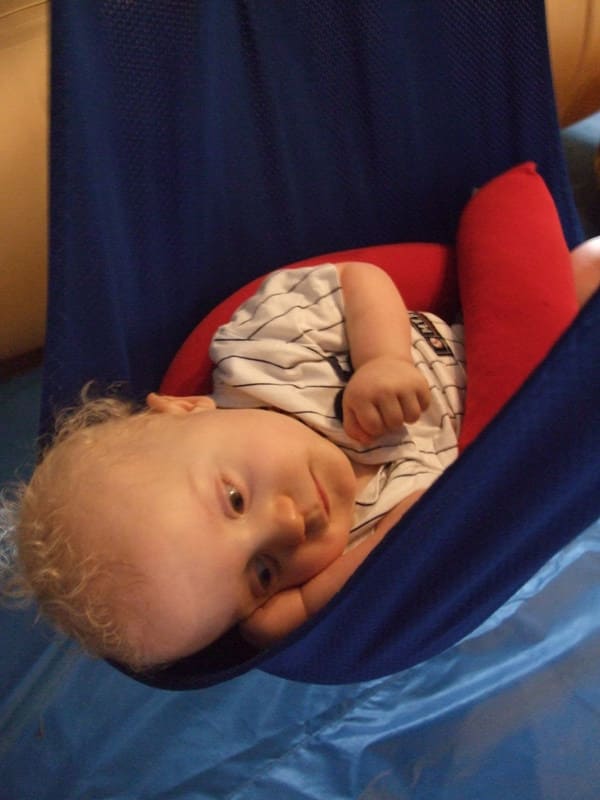 So Ollie began receiving equine-assisted physical and occupational therapies at Children's TherAplay. His initial evaluation showed a gross motor baseline of a three-month-old infant with no gross motor movement, even after receiving months of traditional physical and occupational therapies. Kaleigh remembers, "Nobody believed me when I said he was 18 months old. He weighed 10 pounds. You guys had to order a helmet for him because there was no helmet to fit him."
One of the reasons Ollie was so tiny, practically the size of a newborn, was because he wasn't moving. Kaleigh explains, "CHARGE kiddos lack nearly all of their senses – smell, sight, sound, taste – so their world can be bland and scary. … He hadn't had the opportunity to build any strength, [since he had] no desire to play or interact with anyone."
Within 30 days of equine-assisted physical and occupational therapies
But, with the introduction of hippotherapy, that changed quickly. His mother recalls, "Within 30 days, [Ollie's father Jason] was shaking his head and saying 'this was the best decision we've ever made.' He truly attributes all of Ollie's gains to Children's TherAplay."
What happened to create such an about-face? "[When Ollie came to Children's TherAplay] we just saw this instant change in attitude. You could tell he was responding well to this environment, wanting more. He was reaching out and indicating this world is not so scary. … He was opening this new door and showing us 'Bring it on. Let's go.'"
At six months of treatment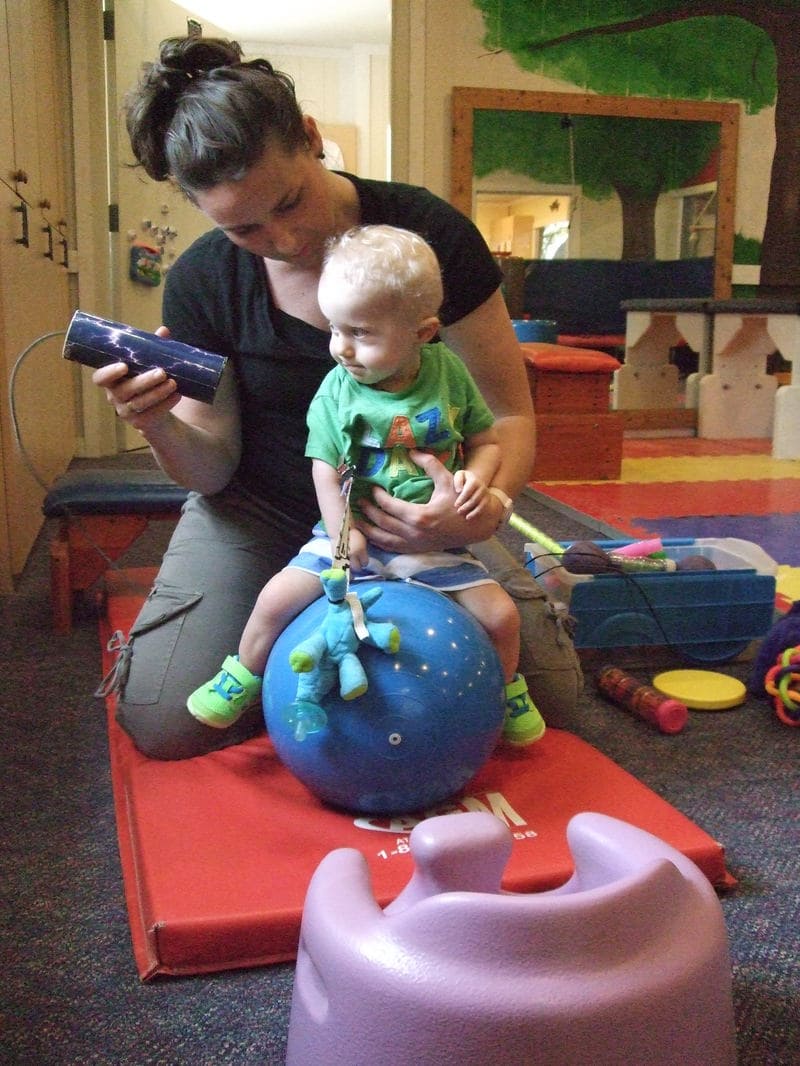 There was more. Within six months of treatment "He started moving forward in leaps and bounds," Kaleigh shares. "The walls that he had built were starting to crumble. We saw this happy playful child who we knew was there we just didn't know how to connect with him because the world had been so scary to him." Ollie was progressing, and there was so much more to come.
His very first step on the Litegait
Four years later, through skilled physical therapy in the clinic and on horseback, Ollie has learned to sit, crawl, stand, and even transition into and out of each position by himself. Now he is learning to walk.
Kaleigh describes the first time she saw Ollie take his very first step, unassisted, on the Litegait weight-assisted treadmill during physical therapy. "To have a child who knew how to take a step. That was incredible. … And to see how happy Ollie was. You could tell, he was so proud of himself."
"I think we're unlocking his world"
It's been more of the same – reaching goal after goal – in occupational therapy. Initially, Ollie would not explore something unless it was brought to him. And, even then, he was only interested in it for a few seconds.
But, through treatment in the clinic and on the horse, Ollie is, for the very first time, initiating play. His occupational therapist Arin describes the shift: "It was so thrilling to see Ollie begin to explore his world through simple things like picking something up, looking at it, spinning it, feeling it. And now he's moved beyond that giant step. He is engaging in purposeful play and with the world around him. We're seeing the beginning of high-fives and [Ollie] intentionally pushing a button on a toy to produce a result. … I think we're unlocking his world."
This progress means so much to his family. "These are huge goals [Ollie's accomplished] that, really, almost five years ago we didn't think they would exist," a teary-eyed Kaleigh shares, "There just aren't enough words to describe how many obstacles he's overcome"
What a difference a horse makes
All this was possible because of hippotherapy. The rhythmic, dynamic, repetitive movement of the horse, and the way Ollie's therapists calibrate it especially for him, provides something that no other treatment or piece of equipment can.
Kaleigh says it so well. "We can do all the therapies in the world, but nobody can mimic what a horse can do, especially when it comes to their movement and stride and gait. There's literally nothing out there like it.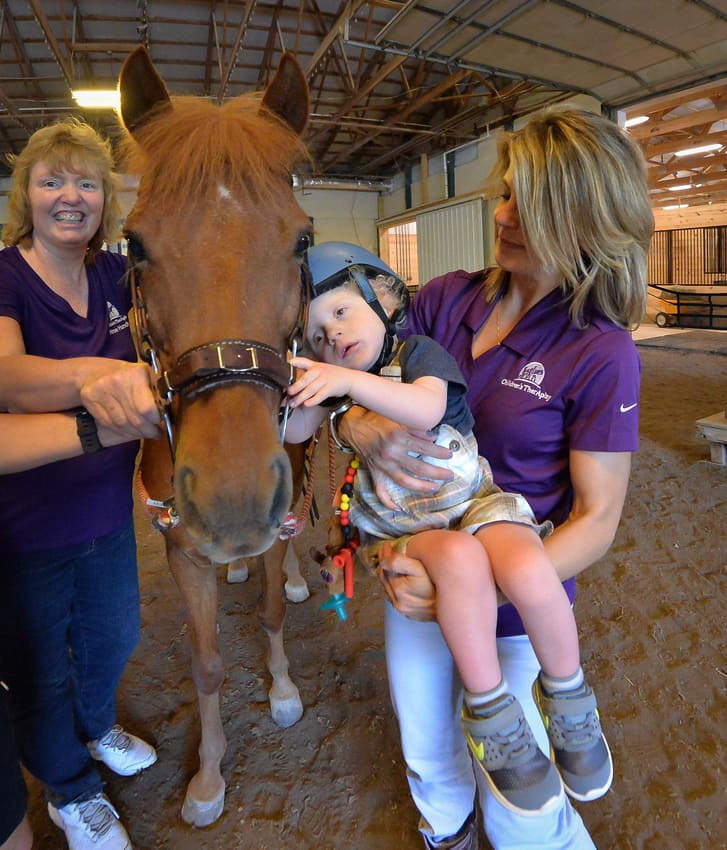 "It's a magic trick but it's not a magic trick. The [movement of the] horse is the key to success. You see the [resulting] core strength and head control and muscle tone. That's probably my absolute favorite thing about coming [to Children's TherAplay]. We've been there so long and we've seen these kids come in [before receiving treatment] and they're not walking and now [after receiving treatment] they're running circles around me. I'm like 'Wow.'"
Ollie's second home and favorite place to be
Another wow? This is a medical treatment her son adores. "He can't really describe it in words but he does show it." When Kaleigh hands Ollie, who is both hard-of-hearing and legally blind, "over to [his therapist], he immediately claps his two tiny hands on her face."
And then, this child who didn't want to be touched by anyone, "wraps his arms tightly around her neck and squeezes. It just melts me." This child is ready to get to work. He has a lot of living to do.
"There's not enough thank-you's in the world"
Like most medical treatments, physical and occupational therapies at Children's TherAplay come with a price tag. A significant portion of each treatment is made possible through community support. And Kaleigh has a message for those who make it possible:
"Oh my goodness. Where do I even begin…? A simple thank you just doesn't seem like enough. If I could tell them [the people who make treatment possible] anything I would say, From the bottom of my heart, thank you for providing the opportunity for our kids to move mountains and giving them a fighting chance."