Get your name out there and do a world of good
Sponsors enjoy exclusive benefits and helping make 750+ equine-assisted therapy treatments possible each month for Central Indiana children with special needs.
In the above video, NASCAR great and longtime Children's TherAplay supporter Tony Stewart shares a little bit about why Children's TherAplay is one of his favorite nonprofits organizations to support.
The video was filmed both here at Children's TherAplay and at Tony's home in Columbus, Indiana during 2017 Tony Stewart Foundation Media Day.

Find the sponsorship package that's just right for you
Therapy horse or stall | Special events | Special opportunities | Your support matters | More ways to give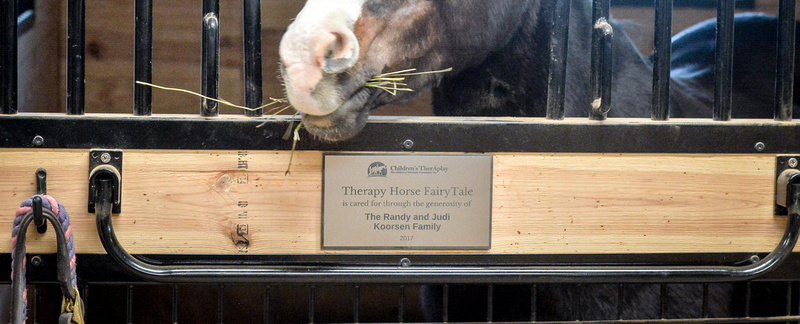 Therapy horse and stall sponsorships
You can help keep our therapy horses healthy and happy by offsetting costs such as high-quality feed, hoof trims, regular veterinary care, and experienced barn staff.
Our trusty steeds would love to show their appreciation by hanging a plaque, engraved with your name, on their stall for everyone to see.
$7,900 funds a therapy horse for one year
$3,900 funds a therapy horse's stall for two years
Wondering which horses and stalls are currently available for sponsorship?
Please contact Development Associate Katie Stratman at kstratman@childrenstheraplay.org or (317) 872-4166.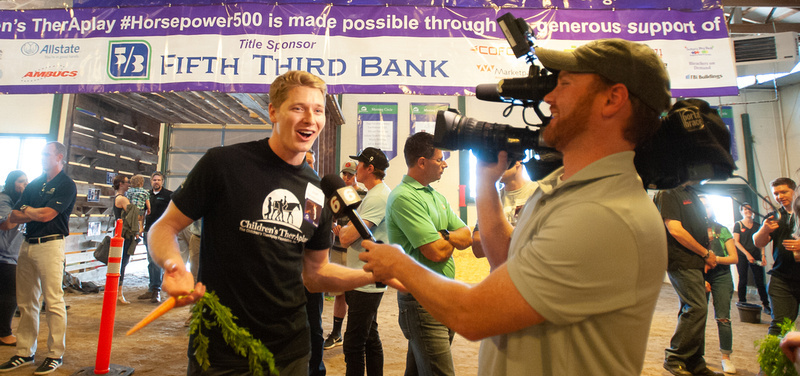 Special event sponsorships
Some of our special events raise funds for treatment, others spread joy to children who are especially in need of it, and still others educate. All of them help further our mission, which is to provide children with special needs with a foundation for developing life skills through innovative therapies.
You can be part of that
Benefits vary by sponsorship level and event and may include name/logo on event print and electronic materials, complimentary or discounted tickets, recognition on an individual or shared banner displayed year-round in the riding arena, social media spotlight, and more.
The Children's TherAplay #Horsepower500 brings the Indy 500 to Children's TherAplay each May for a laughter-filled adaptive tricycle race
Purpose: Raise funds and awareness for Children's TherAplay
Audience: 650+ children and adults of all ages from Central Indiana; Indianapolis 500 and auto-racing fans; local and national media
Details: Event overview

Children's TherAplay Sibling Camp gives the brothers and sisters of our patients the chance to be a Children's TherAplay kiddo for the day.
Purpose: Extend love and support to all the children in the families we serve Audience: 25 children ages 4-12; families; special-needs community
Details: Event overview

Hippotherapy courses, led by the American Hippotherapy Association and hosted by Children's TherAplay, bring local and regional (and sometimes international!) medical professionals together to learn the innovative treatment strategy of hippotherapy
Purpose: Increase the number of therapists who are trained in hippotherapy; ensure the high-quality application of this treatment strategy
Audience: up to 25 physical, occupational, and speech therapists, assistants, and clinics; horse handlers; potential and established hippotherapy clinics
Details: Event overview

The Children's TherAplay Hoe-Down, our signature fundraiser, draws 600+ adults each September for a Western-themed Saturday evening complete with mechanical bull (really!), bourbon tasting, live music, tasty vittles, local brews, cigar-rolling, wine pull, dream trips to bid upon, and of course our legendary live and silent auctions
Purpose: Raise funds for Children's TherAplay
Audience: 650+ adults (ages 21 and up) from Central Indiana and beyond; philanthropists
Details: Event overview
Looking to identify or build a sponsorship package that helps achieve your business goals and furthers our mission?
We can help. Contact Children's TherAplay Executive Director Hillary McCarley at hmccarley@childrenstheraplay.org or (317) 872-4166 to learn more.

Special opportunities
Every once in a while, a very special opportunity comes along … like the Meyers Family Stable, the soon-to-be-revamped sensory garden (complete with wheelchair-accessible swing set!), or the upcoming clinic renovation. Is there something that would be especially meaningful to you? Let's talk.


Your support matters
Equine-assisted physical and occupational therapies can be life-changing, and these leading-edge treatments come with a price tag.
To be specific, each hour of treatment costs Children's TherAplay $182 but the average health insurance reimbursement is only $101. Sponsorships—of a therapy horse, one of our fundraising events, or a naming opportunity—help cover that $81-per-treatment funding gap so we can continue to help Central Indiana children with special needs grow stronger and more independent. Thank you.

Looking for more ways to help?